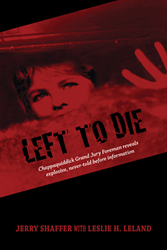 "This blockbuster new book blows wide open the untold scandal surrounding the drowning of Mary Jo." – National Enquirer
(PRWEB) August 22, 2014
Grand Jury Foreman: "What Really Happened at Chappaquiddick?"
Based on true events, "Left to Die" is a powerful account of one man's witness to the 1969 Chappaquiddick case against Senator Edward "Ted" Kennedy.
On July 19, 1969, Mary Jo Kopechne was the victim of a fatal car accident.at Chappaquiddick, Martha's Vineyard. The driver was Senator Kennedy. Co-author Leslie H. Leland was the foreman of the subsequent grand jury investigation into the event. "I believe this book details the investigation, inquest, and grand jury deliberations into the young woman's untimely death after being left in a submerged car by the Massachusetts senator. The grand jury attempted to investigate the accident but was stymied by the DA and judge unwilling to cross the Kennedys," he says.
This book gives Leland's account of how, in his opinion, the jury was thwarted in seeking evidence relating to the accident and of the threats he says were made on his and his family's lives. He says that "'Left to Die is an example of how power and corruption can override the justice system."
The reviews are in: "The rich and powerful can change the outcome of justice and they did in this case." – The Boston Globe
"The story that really needs to be told … fascinating stuff!" – WQXA-FM
"If you ever thought you knew the story pick up this book and be prepared to learn a whole lot more! Wow!" – K.E., Amazon(dot)com
"A blockbuster new book – "Left to Die" – Jerry Shaffer and Leslie H. Leland blow wide open the untold scandal surrounding the drowning of Mary Jo." – National Enquirer
Watch the video at: http://www.youtube.com/watch?v=8ojZ06hwTNc
"LEFT TO DIE": CHAPPAQUIDDICK GRAND JURY FOREMAN REVEALS EXPLOSIVE, NEVER-TOLD BEFORE INFORMATION (ISBN: 978-1-60911-139-7) is available for $26.95 and can be ordered through the publisher's website:
http://www.strategicpublishinggroup.com/title/LeftToDie.html, the Amazon website, or the website of Barnes and Noble.
WHOLESALERS: This book is distributed by Ingram Books and other wholesale distributors. Contact your representative with the ISBN for purchase. Wholesale purchase for retailers, universities, libraries, and other organizations is also available through the publisher; please email bookorder(at)sbpra.net.
About the Authors:
Leslie H. Leland was born and raised in East Bridgewater, Massachusetts. He graduated from Mass College of Pharmacy in 1963 and then moved to Chappaquiddick Island to work for his grandfather, later buying Leslie's Pharmacy from his grandmother after his grandfather's death. He owned and ran the pharmacy for 43 years, retiring several years ago. He served as a captain on the Tisbury Volunteer Fire Department, also for 43 years, and has been involved politically on the island as a county commissioner for the past 11 years.
Jerry Shaffer was born and raised in Chicago; he received a bachelor's degree in journalism from the University of Illinois and served in the U.S. Navy. After working for a trade magazine and several advertising agencies, he started his own company. In 1982, he founded a marketing services company that specialized in co-op advertising programs, which became an industry leader. During his career, he wrote advertising copy and articles for trade magazines. He is now retired and lives in southeast Florida.
Strategic Book Publishing and Rights Co, LLC