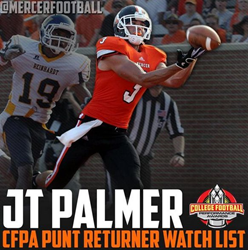 Charleston, SC (PRWEB) August 19, 2014
College Football Performance Awards (CFPA) announces the 2014 CFPA FCS Punt Returner Award Watch List. The initial watch list includes 34 punt returners from the Football Championship Subdivision. All players are eligible for awards at their respective positions; players are not preemptively eliminated from consideration.
The 2014 CFPA FCS Punt Returner Award Watch List is one of twelve preseason watch lists for the Football Championship Subdivision. The list includes two returning CFPA winners: Kevin Johnson (Lamar) and Adrian Wilkins (NCCU).
Other FCS players to earn CFPA honors on punt return include: Dontrell Johnson (Murray State), Shawn Abuhoff (Dartmouth), Asa Jackson (Cal Poly), Darius Carey (McNeese State), Austin Shanks (NAU), and Justin Bethel (Presbyterian). Bethel, who is currently with the Arizona Cardinals, earned the 2011 CFPA Elite Punt Returner Award as a non-designated punt return specialist.
Last season, North Carolina's Ryan Switzer earned the CFPA Punt Returner Trophy, recognizing the top punt return performance in the Football Bowl Subdivision. The 2014 season marks the seventh year for the CFPA Punt Returner Trophy and the fifth year for the CFPA FCS Punt Returner Award.
Presbyterian's Jeremiah McKie Earns Spot on 2014 CFPA FCS Punt Returner Award Watch List:
Presbyterian College senior wide receiver Jeremiah McKie finished the 2013 season with twelve punt returns for 150 yards and one touchdown.
"It makes me feel really good just to know that I'm respected somewhere," said 2014 CFPA Watch List member Jeremiah McKie. "Some people are looking out for things that I need to do. I feel like I need to live up to expectations, really."
McKie, who previously earned a spot on the 2014 CFPA FCS Kickoff Returner Award Watch List, also returned 20 kickoffs for 490 yards and one touchdown.
"For us, Jeremiah had two big returns," said Presbyterian College Head Coach Harold Nichols. "Teams down the stretch were less likely to punt him the ball."
2014 CFPA FCS Punt Returner Award Watch List:
Alexander Jette, Brown
Jordan Hildreth, Campbell
Tommy Hudson, Chattanooga
Devin Rahming, Duquesne
Shepard Little, Eastern Illinois
Stanley Absanon, Eastern Kentucky
Kierre Brown, Elon
Terry Johnson, Florida A&M
Brian Wetzel, Fordham
J.J. Hubbard, Gardner-Webb
Anthony Warrum, Illinois State
Terrance Bryant, Jacksonville
Kevin Johnson, Lamar
JT Palmer, Mercer
Ellis Henderson, Montana
Shawn Johnson, Montana State
Kevin Thompson, North Carolina Central
Adrian Wilkins, North Carolina Central
Keith Johnson, Norfolk State
Christian Dudzik, North Dakota State
Ed Eagan, Northwestern State
Jeremiah McKie, Presbyterian
Antwan Eddie, Robert Morris
Tyler Dube, Sacred Heart
Anthony Abeid, Saint Francis U
Steven Murphy, South Carolina State
Je Ryan Butler, South Dakota State
Devante Scott, Southeastern Louisiana
LaSteven McKinney, Southern Illinois
Weldon Garlington, Tennessee State
Ladarius Vanlier, Tennessee Tech
Nick Cefalo, UNH
Poppy Livers, Villanova
Octavius Harden, Wofford
About College Football Performance Awards:
The goal of College Football Performance Awards is to provide the most scientifically rigorous conferments in college football. Recipients are selected exclusively based upon objective scientific rankings of the extent to which individual players increase the overall effectiveness of their teams. Twenty-eight CFPA winners have been first-round NFL Draft selections.