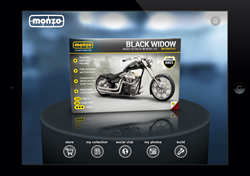 "MONZO has great potential to capture the interest of mobile gaming fans from all present genres and it will also be fun for gamers of all ages as well." explains Marek Rabas, CEO of MADFINGER Games.
Brno, Czech republic (PRWEB) August 18, 2014
MADFINGER Games, the frequent recipient of critical acclaim and developer of high ranking games in global app communities, has made the decision to move to the next level. Their new project is certainly unique and it will appeal to a broad segment of new gamers, who are not just fans of shooter games.
MONZO is model kit construction simulation, from where you can build a model directly on your mobile device, providing the joy of model creation with an appeal that speaks to a broad audience of gamers, spanning from children to adults. With MONZO, gamers can easily build simple or complex models.
MONZO enables the creation of highly detailed construction kits for touch devices, in an enjoyable experience of top notch visual quality that is both educational and knowledge expanding. The central component of the game is an intuitive, easy to use, one-finger control. Models of varying degrees of complexity can be created with no stress or time limit and the high quality visuals are soothing on the eye. Throughout the course of construction process, gamers are met with highly realistic 3D graphics.
All models can be purchased via the MONZNO Store within the application itself. Kits are sorted into various categories for easy orientation. MONZO features a wide selection of classic model kit boxes that is intended to motivate personal exploration. Emphasis is placed on the experience of buying the kit and unpacking the boxes for an exciting first experience with the model. As with a real kit, each box contains a step-by-step assembly guide. Due to this, any gamer has the possibility of creating a highly complex model.
With a rich palette of colors and available materials, each model can be adjusted according to the creative ideas of the user. Each original model created by a user is enabled with in-app support for sharing through various social media platforms.
Madfinger Games is a stable and dominant player in multimedia entertainment focusing on mobile platforms. Founded in 2009, Madfinger instantly achieved top ranking in the sale of its apps. Shortly after, Madfinger Games began cooperation with a number of significant companies from the game industry and has been regularly honored with series of prestigious awards. A majority of recognition comes from Madfinger's signature stunning visuals and excellent gameplay experiences.
Today Madfinger Games continues to expand its portfolio with an in-house staff of over 50 employees and games that have been downloaded by more than 60 million players.
Check out the MONZO video: http://bit.ly/monzovid.
Download MONZO screenshots here: http://bit.ly/monzoscreens.
MONZO Website: http://bit.ly/monzoweb
MONZO Facebook: http://bit.ly/MonzoFB