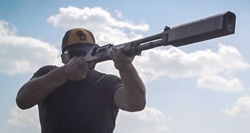 The SilencerCo Salvo 12 is the first and only commercially-viable shotgun suppressor on earth.
West Valley, Utah (PRWEB) August 19, 2014
In July 2014, Utah based suppressor company Silencerco announced the world's first commercially viable shotgun suppressor, the Salvo 12, at an exclusive "Catalina Wine Mixer" event for the top press and resellers in the outdoors industry. The media reaction speaks for itself. Former Top Shot champion Chris Cheng reported on the shotgun silencer for The Blaze "There you go, eight, nine rounds — eight rounds. Super smooth, no jams, nice and quiet. Good stuff," Cheng said. "It basically sounds like someone is loudly clapping their hands in front of your ear."
Military Times reported on potential tactical applications of the shotgun suppressor. "While the benefits for sport shooting are fairly obvious; hearing damage to shooters and spectators, spooking game, etc… the tactical appeal may seem elusive at first. But, think about the benefit of dropping the sound signature of a door breaching operation for just one possible use. Sure, it's not silent. But, the sound of a 132 dB shot can be passed off as construction noise and won't alert an entire neighborhood or building the same way a 160 dB blast would."
The SilencerCo Salvo 12 is the first and only commercially-viable shotgun suppressor on earth. It represents an incredible advance in engineering and technology, and carries with it the same quality and service as SilencerCo's other products. The Salvo 12 is modular in nature — the shooter can add or remove sections to balance their sound suppression, weight and length needs. At its full length of 12 inches, it brings sound down to 137 dB at the muzzle — well below the 140 dB hearing-safe level set by OSHA. Whether you use a shotgun for hunting, shooting clays or home defense, the Salvo 12 fits most common shotguns — provided you have a choked barrel.
The Salvo 12 is just one more example of the type of innovation that has garnered a fiercely loyal customer base for SilencerCo and their line of shotgun, handgun, and rifle silencers.