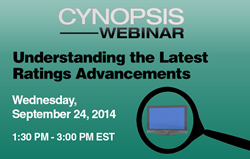 New York, NY (PRWEB) August 18, 2014
Whether you're just starting out in the TV industry or want a refresher on interpreting the most recent advanced data collection methodologies, join Cynopsis on Wednesday, September 24 for the exclusive training webinar "Understanding the Latest Ratings Advancements" and learn how to read and understand the most current changes in TV ratings.
Agency and research experts will review ratings basics and then move to the latest in measurement science. It's more important than ever to be up to speed on state-of-the-art ratings data, and the panel will reveal which are most effective in a sales pitch.
Cynopsis Editor Lynn Leahey will host the September 24 webinar; and the following experts will participate:

Brad Adgate, SVP/Director of Research - Horizon Media
Brian Fuhrer, SVP Product Leadership & Cross-Platform TV Audience Measurement - Nielsen
Bruce Goerlich, Chief Research Officer - Rentrak
During this information-packed 90-minute webinar, attendees will learn:

The new relevant metrics to better target your marketing and programming to drive continued growth and how to differentiate among multi platform, media, video, mobile, and ad measurements to best serve your business goals.
How to harness "consumerization" ratings solutions, which broaden segmentation to provide a custom view of your most profitable consumers, as well as how to reach them.
The differences between live programing and On Demand viewing as they pertain to ratings – and what's ahead in disabling VOD fast forwarding.
Which ratings data are most effective in a sales pitch.
This highly interactive webinar will allow for real time Q&A's to ensure your specific questions are answered. Register today for the Cynopsis webinar "Understanding the Latest Ratings Advancements."
All Webinar attendees will receive full access to speaker presentations for 1 year, along with a certificate of completion. Webinar tuition is based on location, not number of participants, so each registration site can have multiple participants for one low price. Questions? Contact Trish Pihonak at trish(at)cynopsis(dot)com.
About Cynopsis Media:
Cynopsis Media is a division of Access Intelligence LLC. The Cynopsis Media family of products includes Cynopsis, Cynopsis: Digital and Cynopsis: Sports daily e-publications, weekly Cynopsis: Kids and Cynopsis: Classified Advantage e-publications, Special eReports, Event/Summits and a strong database of Classifieds and more. Visit cynopsis.com.
###