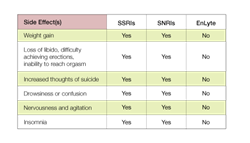 "There is hope through education and there are natural, safe therapies that address these issues that make depression difficult to treat." - Towny Robinson, CEO, JayMac Pharmaceuticals, LLC
Sunset, Louisiana (PRWEB) August 18, 2014
In a recent article by Jessica Firger of CBSNews, Dr. Harry Croft, noted psychiatrist and addiction expert, offered expert insight into the recent suicide of Robin Williams. Dr. Croft suggested some of the significant challenges associated with treating severe depression are:
1. There is a stigma associated with having -and seeking treatment for- depression.
2. It is difficult to treat.
3. It can be resistant to drug therapies.
4. Common medications used to treat it come with FDA precautions of suicidal warnings.
5. Genetic Mutations can make some people unresponsive to drug treatment.
For years depression has been thought to be a weakness, adding to the stigma. Dr. Croft states that brain scans of those with depression look different than those of others, proving that this is a brain disorder. Selective Serotonin Reuptake Inhibitors (SSRIs) and psychotropic medications are often used, but only about 1/3 of people will reach remission on one medication alone-meaning they're back to their old self. About 60% of people don't finish their prescribed therapy at all due to side effects-weight gain, sexual difficulties, and worsening of depressive symptoms-including suicidal thoughts. Treatment Resistant Depression is common, and behind this are genetic mutations such as SLC6A4-a genetic defect associated with poor response, slow response, and adverse events with SSRI medications-and MTHFR polymorphism, which may affect 60% of the population- which prevents our brains from producing mood regulating chemicals (neurotransmitters).
JayMac Pharmaceuticals wants people to know there is hope in treating this difficult disorder. According to JayMac CEO Towny Robinson "There is hope through education and there are natural, safe therapies that address these issues." JayMac markets the new advanced folate therapy, EnLyte, and is committed to the cause of education in depression treatment.
Using folate therapy to treat depression has been widely studied, and found to significantly enhance the effectiveness of an SSRI when added at the beginning-overall improvement of symptoms and functioning improved, dropout rates were cut in half, and patients reached remission 2 months sooner than with a standard antidepressant alone. Folates are recommended by both the American Psychiatric Association (APA) and the APA Task Force on Complementary and Alternative Medicine (CAM) from the start. Using an advanced folate therapy such as EnLyte will address many of the issues cited by Dr. Croft: According to Andrew Farah, MD, Chief of Psychiatry, UNC, High Point Regional Health Systems. EnLyte addresses the root cause of the disease not just the symptoms, and fully addresses all of the most common genetic mutations found in depression by containing all of the metabolized b vitamin cofactors, as well as the most bioavailable form of L-Methylfolate. Finally, it is proven, natural, and safe-so safe it can even be used in pregnancy.
The APA issued an Alert Newsletter after news of the suicide, in which APA President Paul Summergrad, MD stated, "It's very important that we stop seeing these illnesses as false and stop blaming patients and see them for what they are—which are medical conditions, genetic conditions, brain disorders that require appropriate diagnosis, treatment, care, and support."
About EnLyte
EnLyte is an advanced generation folate therapy containing a proprietary triad of reduced and unique folates, cofactors, and minerals designed to treat depression and other conditions related to folate deficiency. Learn more at http://www.EnLyteRx.Com.