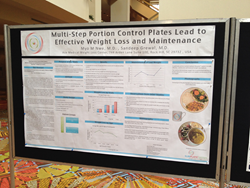 Rock Hill, South Carolina (PRWEB) August 18, 2014
The team will give away the SlimPlate System portion control kit so that other experts in the field can conduct their own research and draw their own conclusions from the method. The physicians behind the weight loss technique are supremely confident that all reports and experiments will be resoundingly positive – indeed, they're so certain of success that they have announced a research grant of $12,000 in the form of free SlimPlate System portion control kits to aid the research on portion control and treatment of obesity.
The SlimPlate System of portion control works by giving dieters a selection of plates, which replace all of their regular dinnerware. Those using the system must ensure their meals do not exceed the boundaries on the plates, preventing them from overeating and controlling the amount of calories that are consumed. Research conducted by the SlimPlate System physicians themselves has proven the efficacy of the method, but now the team are giving independent dieticians and researches the chance to see for themselves how successful the system can be.
A spokesman for SlimPlate System says, "We've already undertaken our own research to establish just how effective SlimPlate System is for those who want to lose weight sustainably – we're so confident in the portion control technique that we'd like to throw open the doors to SlimPlate System, so to speak, and allow a range of independent scientists to examine and experiment with the method. We'll provide them with all of the plates and dinnerware they need to carry out in-depth experiments, and we invite them all to share their findings when they're done. We want to advance the knowledge about portion control and treatment of obesity."
He adds, "We're confident that the new research will further endorse portion control as a sustainable and healthy way to lose weight – and fast. The team here at SlimPlate System would like to send a message to all scientists, nutritionists and dieticians, encouraging them to submit their application for one of our free portion control plate packs."
The portion control system created by physicians involves four different stages, the first of which help to trigger quick weight loss, and the last of which help to maintain a certain body weight. Each plate has been designed to control the portions of certain food groups in accordance with how fast the user wants to lose weight – for example, the first plate triggers the weight loss by limiting starch intake. The second plate reintroduces starch and by the time users reach the fourth plate, their diet is balanced and controlled.
SlimPlate System has been such a hit among those aiming to lose weight because of its simplicity – many find it hard to believe that simply restricting the portions of the meals they already eat will yield such impressive results. This new endeavour will allow plenty of research to be carried out from different angles by the scientific community on portion control method.
To find out more about SlimPlate System, visit the website: http://www.slimplatesystem.com/.
About SlimPlate System:
SlimPlate System is a four-stage weight loss program that shuns deprivation for portion control. The system, which has been designed by physicians and proven by research, is easy to implement and maintain, with no calorie counting, costly supplements or juice fads.