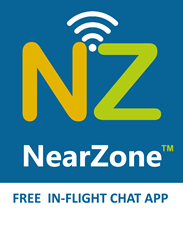 Free In-Flight Chatting App
Rock Hill, South Carolina (PRWEB) August 18, 2014
Not being able to text or call is the most common reason of getting bored on travel. Many a times families are seated separately in the airplane and it is hard for them to keep in touch during flight. One company is trying to change just that with a new mobile app on App store called NearZone. NearZone app allows fellow passengers, to chat with one another, inside the airplane during flight. The app does allow chatting from phone to phone without using a cell tower or wi-fi and so can be used during air travel. Federal Aviation Administration (FAA) allows the technology.
"This will revolutionize the way we travel, and even the way we connect with people around us," said Grewal, an executive of NearZone. The app allows people to broadcast their profile message to people around them. Others using the app nearby can see that profile in their phone. People can then send a connect request and chat without exchanging phone numbers. "The app keeps you anonymous even though you are in the vicinity of the other person until you are ready and comfortable to reveal yourself and meet," said Myo S Nwe the lead programmer. The NearZone app can also be used in other situations where one may need to connect with people around them.
In-flight chatting with family and even fellow passengers is no longer a dream. The patent pending NearZone app can be downloaded from the app store for free. An android version is under development.
Information source is http://www.NearZone.org.
Media contact: press(at)acemedicalgroup.org