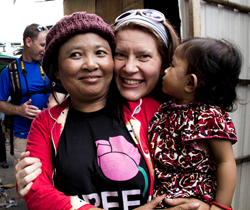 Saving Babies Everyday
(PRWEB) August 25, 2014
Saving Moses, a global humanitarian organization that saves babies every day revisited Phnom Penh, Cambodia to further their efforts with a third NightCare center. This one of a kind center feeds, bathes, and shelters babies whose unfortunate mothers are trapped in the Cambodian sex industry.
A team of 15 volunteers traveled to Phnom Penh for the first ever group trip to assist with painting, repairing, cleaning, and improving the two existing centers and the newly opened third center. They went in to old and new neighborhoods to tell the sex workers about the newest NightCare Center and encourage them to bring their babies to the center. The group also worked with the babies and toddlers at night.
The three centers are fully operational and are averaging around 20 babies a night. The first NightCare Center opened in 2012 to provide babies with a safe place to get a warm meal, have a bath, and sleep soundly and safely in a bed.
Saving Moses is continuing to build trust with mothers and is striving to expand to every part of Cambodia where the need is most urgent and care least available for the babies. Due to the vast need, Saving Moses is planning to open a fourth center by the end of 2014.
Because of NightCare, Saving Moses is able to consistently provide protection and care to babies who have no other refuge. Saving Moses is saving babies every day.
To donate, become a hero, or become an ally for this important cause, visit savingmoses.org\donate.
About Saving Moses:
Saving Moses is a global humanitarian organization saving babies (5 & under) everyday by meeting the most urgent and intense survival needs where help is least available. Saving Moses was founded in 2012 by Sarah Bowling after a mission trip to Ethiopia. Saving Moses currently has programs in Cambodia and Angola. For more information, please visit http://www.savingmoses.org, call 303-729-1200, or email Info(at)savingmoses(dot)org.