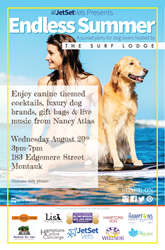 Hamptons, New York (PRWEB) August 18, 2014
JetSetVets, the Premier Private Jet Veterinary Service, along with The Hamptons Canine Concierge, The VIP Concierge service for dogs in the Hamptons, will be holding their Summer Party for Dog Lovers at The Surf Lodge in Montauk on Wednesday August 20th from 3-7 pm.
The event is open to all Dog Lovers and will be a celebration featuring luxury dog brands, canine themed cocktails, gift bags and live music from Nancy Atlas.
Sponsors for the event include Celebrity Veterinarian Dr. Cindy Bressler, Celebrity Dog Trainer Lisa Hartman, Edward Alava of The Dog Store, Hamptons Dog Magazine, Wellness Pet Food, The Hamptons Cookie Collection for Dogs, The Hampton Dogs Book, The Hampton Pet Chef, The Free Ride and SO Sponsored.
Luxury Gift Bags will feature gifts from Wellness Pet Food, Whistle Dog GPS and Activity Monitor, Duke and Winston, Mattie and Margot, Harry Barker, Hamptons Hound, The Hamptons Cookie Collection, Hamptons DOG Magazine, the DOG store, Dr. Cindy Bressler, Lisa The Dog Trainer, Surf Dog Australia, Mighty Mite Dog Gear, Kelly B Boutique, Joni's restaurant, Coffee Tauk and Black Lace Skin Jewelry.
The Surf Lodge
183 Edgemere St, Montauk, NY 11954
https://www.facebook.com/events/832766343402373/?ref_dashboard_filter=upcoming
Proceeds will benefit Animal Charities.
Humans only, please.
Poster design by So Sponsored.