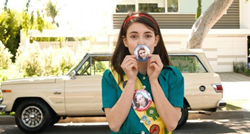 Los Angeles, CA (PRWEB) August 19, 2014
This week NewFilmmakers LA Film Festival celebrates a very special victory - according to an article published on August 14th by Deadline Hollywood the $400 million California Film and TV Tax Credit proposal has unanimously passed in the CA State Senate. The lottery system will no longer exist, and applications will now be ranked by the number of jobs their films will create in the state. It's only a matter of time until we begin to see film and TV productions move back to California.
In addition, on August 14th at the Beverly Hilton Hotel, NewFilmmakers was among several film organizations to receive a major honor from the Hollywood Foreign Press Association. NewFilmmakers LA was one of the HFPA's 2014 grant recipients. The funding was awarded to NFMLA to assist in providing additional screening opportunities in Los Angeles for international filmmakers.
This month the NewFilmmakers LA Film Festival will be screen ten incredible short films and one feature film on Saturday August 23rd at the AT&T Center in Downtown Los Angeles. Below is the selected lineup.
Steve's Problem – Dir. Mike Lars White
A stranger offers Steve a little help with his pee shyness, only to cause much worse problems later on.
Award winning film "Steve's Problem" has appeared at a number of film festivals including the Seattle International Film Festival, Athens International Film Festival, and Albany Film Festival where it won Best Narrative short. "Steve's Problem" is Mike Lars White's directorial debut. He has previously worked alongside filmmakers such as Pawel Edelman (The Pianist) and Andrej Fidyk (Defilada).
Jenny & Lalo – Dir. Janine Salinas Schoenberg
Jenny is a young woman growing up in East LA. When she realizes that she is pregnant, her boyfriend Lalo devises a plan for them to leave Los Angeles and travel north. But there's one big problem: they belong to rival gangs.
Director Janine Salinas Schoenberg is a graduate of USC's MFA Dramatic Writing Program. She has previously been nominated for the Princess Grace Award and the Wendy Wasserstein Prize for her screenplay Tercio de Muerte. In 2013 Janine participated in the AFI Directing Workshop for Women and she was awarded the Nancy Malone Directing Award for "Jenny & Lalo".
Rosita Lopez for President – Dir. Rachel Goldberg
Rosita Lopez is a 14-year-old-girl running for President of the United States of America. As she tries to garner votes, she renews more than just a faith in democracy in the people she meets.
Cal Arts Graduate and award winning director Rachel Goldberg has worked with a number of filmmakers including Quentin Tarantino, David Sacks, and Jason Venokur. In 2012 Film Independent named her one of "30 Emerging Filmmakers to Watch". Emmy award winning actor Andre Braugher (Men of a Certain Age) produces, and critically acclaimed theatre and TV actor Charles Robinson (Night Court, The Fresh Prince of Bel Air, How I Met Your Mother) stars. "Rosita Lopez for President" has played the film fest circuit at over 14 different festivals across the US.
Market Hours – Dir. Jon Goldman
Randall spends his days imagining the vibrant inner lives of various vendors at the multicultural urban market where he works; none more so than Angela, an angel with her own pastry shop. But Randall's inattention to his work has lead to a string of thefts and soon threatens to cost him his job. A chance encounter with a beautiful starlet and her lapdog provides Randall not only an opportunity to break the ice with Angela, but a chance to prove his worth to everyone at the market - including himself.
"Market Hours" first premiered at The Weinstein Company's Lexus Short Filmmaking Series. Prior to the Lexus event, director Jon Goldman was given the opportunity to be mentored by notable members of the film community including actress Katie Holmes, Justin Chadwick, Simon Curtis, Antoine Fuqua, and Phillip Noyce. The film stars Ashlynn Yennie who has recently appeared on NBC's Undateable and HBO's True Blood.
Operation Barn Owl – Dir. Satsuki Okawa
Ellen's best friend Jonah wants to create a unique and picturesque proposal to his girlfriend. Banding together with a group of friends, Ellen works diligently to ensure that the meticulously planned show of affection goes off without a hitch, but issues arise along the way. Ellen must overcome her feelings for Jonah and any past promises they made to each other for the proposal to go as planned.
Operation Barn Owl was also chosen to premiere at The Weinstein Company's Lexus Short Filmmaking Series. During this process, Katie Holmes, Justin Chadwick, Simon Curtis, Antoine Fuqua, and Phillip Noyce also mentored film director Satsuki.
Roadkill Redemption – Dir. Karl Hadrika
A nighttime driver is haunted by the ghost of a raccoon she hits with her car. A bittersweet comedy poking fun at the fragility of life and the consequences of careless driving.
Director Karl Hadrika was one of fifty-one finalists chosen for the Student Academy Awards in May 2014 for his animated short film "Roadkill Redepmtion."
While We Were – Dir. Robert Roa (Feature)
Shifting between dream states and reality, "While We Were" follows three strangers as they are drawn together by a mysterious reoccurring dream to a rural town where they encounter apparitions and other strange happenings surrounding a botched drug deal that inextricably link their fate.
Los Angeles native Robert Roa has worked alongside award-winning directors such as Darren Aronosky, David O. Russell, Lars von Trier, and Jean-Pierre Jeunet. Robert has worked as a creative director for companies such as Fox Searchlight, NBC, Warner Bro, and HBO. The film stars Clayne Crawford who is best known for Rectify (Sundance) and Rogue (DirectTV).
God Maskingevaerlyd – Dir. Truls Krane Meby
As Arvid's (8) aunt dies, he also loses his mother to grief. His mother's grief is a closer and more understandable pain to him than the distant concept of dying and we float with him through this new, strange landscape of grief, as he tries to regain his mother and slowly begins to realize the finality of life.
Man in the Trunk – Dir. Drew Hale
Two foster brothers have to decide their fate after one of them makes an impulsive decision that could change the course of their lives.
Kepler X-47 – Dir. Erin Li
A woman volunteers to live in a human zoo exhibit on an alien planet but soon realizes that life is not what she expected. She attempts to rebel against the status quo, but will she succumb to her own need for security and remain a caged animal?
App – Dir. Alexander Berman
Love is dumb. Now there's an app for that.
A shy engineer desperately needs venture capital for his virtual wing woman app. Can he and his app seduce a heartbroken girl at a swanky LA bar to prove it works?
Located in Downtown LA, AT&T Center is the Presenting Venue Sponsor of NFMLA. Founded in 2007, NFMLA has screened over 800+ films from over 51 countries. NFMLA boasts over 20,000 supporters locally. The organization provides a forum where filmmakers can be recognized with title supporters Sony Pictures Entertainment, SAG-AFTRA and LA Weekly.
For information or to purchase tickets to the NewFilmmakers LA August 23rd screening, please visit http://www.newfilmmakersla.com.