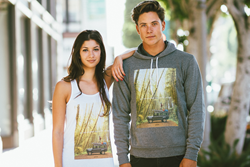 Like any creative, I've always wanted my work to do more than just make a profit...I think a big part of my experience has been trying to give back any way I can. - Chris Burkard
Fullerton, CA (PRWEB) August 18, 2014
Sevenly announces today that its new campaign, which runs beginning 10am PST, August 18-24, will raise funds to provide food, education, and a safe home for orphaned children living in Watoto Children's Villages.
In sub-Saharan Africa, the HIV/AIDS pandemic has orphaned more than 14 million children. According to World Hunger Facts 2009, 11 million children die each year before their 5th birthday. More than 20,000 children have been abducted - forced to serve as child soldiers in Uganda.
Watoto is an holistic care program that was initiated as a response to the overwhelming number of orphaned children and vulnerable women in Uganda, whose lives have been ravaged by war and disease. Watoto is positioned to rescue a child, raise each one as a leader in their chosen sphere of life so that they in turn will rebuild their nation. Watoto is not an orphanage in the traditional sense. Real homes are built to cater for children who have lost their family or are vulnerable for many reasons. Each Watoto family consists of a mother who takes care of up to 8 children.
"The beauty of working with Sevenly and the opportunity that I've had is that they work with so many different causes that we can always be exploring new things. I love the fact that they are people focused, I think that a lot of my work celebrates nature and celebrates these landscapes, but to really give back to people in need is so important to me," said Chris Burkard, Sevenly brand advocate.
This will be Sevenly's 16th campaign benefitting orphaned children since they were founded in 2011 and they have raised over $200,000 for orphan support and care around the world. Every item you purchase from Sevenly this week will provide funds that will keep Watoto Children Villages growing and providing free and safe homes for orphans in Africa. Since June 2011, Sevenly has donated over $3.7 million to some of the world's greatest causes.
To help raise greater awareness of the cause this week, Sevenly has partnered with brand advocate, renowned surf photographer, Chris Burkard. This week they have decided to feature three of Chris's photographs that align with the cause to be featured on a series of shirts. "The idea was born out of our partnership with Chris. We were looking for a new and creative way to continue to tell our cause story through art, while still highlighting his photography. So, we decided to invite photography in as a different medium of art for us to explore. This allows us to stay true to our brand while continuing to be innovative in our new ways of bringing others into the work we are doing around the globe," said Stephanie Cz, Sevenly Director of Marketing. This week, their best selling, John Lennon, "Dreamer" design is back and is paired with one of Chris's outdoor adventure photographs along with a unique and stripped down version of the quote, "Be the change you want to see in the world." Two original Sevenly illustrated pieces will be available as well.
Chris has also brought along the support of some of his corporate sponsors, Olloclip and Sony, to help promote and raise awareness for the Watoto campaign. Olloclip has donated their best selling collection of iPhone lenses for a contest giveaway that will be promoted on Sevenly's Instagram, Facebook, and Twitter channels.
Through Chris's alignment with Sevenly's care for global causes and his rising star popularity and award winning acclaim, both Sevenly and Chris are hoping to make this one of the highest raise weeks for a single orphan campaign in the history of the company.
"If we're not giving back to those in need, then I think that maybe the mindset is wrong, so I'm grateful to be aligned with a company that has similar values," said Chris Burkard.
About Sevenly
Sevenly's campaign for world change was launched in June 2011 to raise awareness and funding for the world's greatest causes. Each week, Sevenly launches a campaign with another charity to sell shirts specifically designed for their cause, with $7 dollars from each unit sold donated to the charity. The company is increasing awareness, funding and following for charities that are changing peoples' lives every day on every continent. In their first 3 years, they have raised $3.7 million and changed more than 1 million lives. To learn more about Sevenly, visit http://www.Sevenly.org.