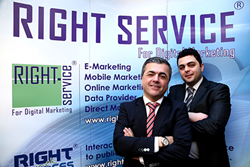 Our model of localizing our service and building out top notch local support will help us to better service this developing market.
(PRWEB) August 20, 2014
After recently expanding into Poland, the company has created more business development - this time in the Middle East with the partnership of Right Service, a Digital Marketing company of 14 years, located in Lebanon and the United Arab Emirates.
The United Arab Emirates (UAE) is a federation of seven monarchies located in the Middle East and has quickly developed as the world's nineteenth highest economy in terms of GDP per capita. The UAE also houses Dubai, which is recognized as a global city and accepted as an international business gateway for West Asia and Africa.
The rapid development of emerging economies in the UAE and Middle East has not gone unnoticed by GraphicMail President, Nick Eckert. "The Middle East is one of the fastest growing regions in the world for Internet adoption. We are very excited to get involved with this rapidly developing market."
Joe Ghantous, founder and manager of Right Service, has over ten years of experience in digital marketing. Thanks to his intelligent business design, Mr. Ghantous and Right Service have received recognition from online powerhouses such as Google and Facebook for their unique approach to online advertising.
"We strive to craft excellence by providing a tangible, great experience to our customers. We operate through the latest digital marketing tools, offering our clients our expertise in email, mobile and social media marketing. By offering GraphicMail in the Middle East region, we have made great strides towards both these goals," says Ghantous. "By offering GraphicMail as an email marketing solution which achieves a constant average of 98% Inbox delivery, our motto of 'Turn Your Social Media Fans into Customers' is further secured," says the founder.
Lukas Hofer, Channel Manager for GraphicMail, sees the expansion as a trend for the company and notes the unique opportunity for business development stating, "We are enthusiastic to start offering email marketing and communication services in the Middle East. Businesses with worldwide reach are developing rapidly, especially in UAE, which requires global communication solutions for email, SMS and social platforms."
With 75% internet penetration, the UAE has the highest stake in digital marketing in the Middle East region. Email marketing has been proven as a reliable, cost effective medium to reach and retain customers globally. Nick Eckert acknowledges this fact as an opportunity to assist business development in the region, stating, "Companies in the Middle East see email as their first step into digital marketing. Yet there are few local solutions. Our model of localizing our service and building out top notch local support will help us to better service this developing market."
Since its inception in 2002, GraphicMail has acquired country partners in over 25 countries. After offering GraphicMail.ae in Arabic as well as English, the company now offers their services in 13 different languages around the world.