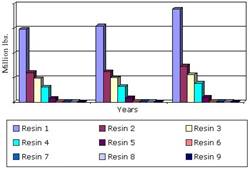 Global Market for Rigid Food Packaging to Reach Nearly $37.2 Billion Pounds by 2019
Wellesley, Mass., (PRWEB) August 18, 2014
BCC Research (http://www.bccresearch.com) reveals in its new report, RIGID FOOD PACKAGING, the global market for plastic rigid food packaging is expected to increase to 37.2 billion pounds by 2019, which corresponds to a 3.7% compound annual growth rate (CAGR) from 2014 to 2019. Polyethylene terephthalate (PET) will retain its dominance over the next five years with a CAGR of 4.1%.
Plastic rigid food packaging is a very large, but mature market. It is dominated by four resins: PET, HDPE, polystyrene and polypropylene that comprise about 96% of the total market. PET will retain its dominance over the next five years mostly due to its very large usage in bottles for soft drinks, water, and fruit juices.
The global plastic rigid food packaging market was estimated at almost 30 billion pounds in 2013. This is anticipated to grow to over 31 billion pounds in 2014; it is expected to increase to 37.2 billion pounds by 2019 which corresponds to a 3.7% CAGR.
"Although the U.S. will remain the largest geographic segment in the global market, the most rapid increases in demand for plastic rigid food packaging will come from Asia with about twice the annual growth rate of the U.S. and Europe," says BCC Research analyst Melvin Schlechter. "This scenario is being led by China which is expected to account for almost 50% of the Asian growth."
RIGID FOOD PACKAGING covers key resins used in rigid food packaging, segmented by the major applications including bottles, dairy, meat/deli, prepared food, containers, foodservice plates, cups, etc. It also quantitatively assesses individual plastics usage in the key markets; provides rationales for the trends within each market sector; describes the roles of the many companies involved such as injection and blow molders, and thermoformers and discusses the structure of the industry, the ever-increasing importance of recycling, and other critical issues such as non-petroleum source materials.
Editors and reporters who wish to speak with the analyst should contact Steven Cumming at steven.cumming(at)bccresearch(dot)com.
About BCC Research
BCC Research publishes market research reports that make organizations worldwide more profitable with intelligence that drives smart business decisions. These reports cover today's major industrial and technology sectors, including emerging markets. For more than 40 years, we have helped customers identify new market opportunities with accurate and reliable data and insight, including market sizing, forecasting, industry overviews, and identification of significant trends and key competitors. We partner with analysts who are experts in specific areas of industry and technology, providing unbiased measurements and assessments of global markets. Our clients include the top companies in industries around the world as well as universities, business schools, start-ups, consulting firms and investment companies. BCC Research is a unit of Eli Research LLC. Visit our website at http://www.bccresearch.com. Contact us: (+1) 781-489-7301 (U.S. Eastern Time), or E-mail information(at)bccresearch(dot)com.
Data and analysis extracted from this press release must be accompanied by a statement identifying BCC Research LLC, 49-2 Walnut Park, Wellesley, MA 02481, Telephone: (+1) 781-489-7301; E-mail: editor(at)bccresearch(dot)com as the source and publisher. Thank you.