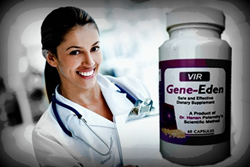 The CBCD recommends that individuals who take Valacyclovir pay attention to the initial signs of acute kidney injury, and in such a case, that they seek immediate medical attention. - Greg Bennett, CBCD
Rochester, NY (PRWEB) August 19, 2014
"Infected with the herpes virus (HSV-1 or HSV-2)? The CBCD recommends taking Novirin or Gene-Eden-VIR." - Greg Bennett, CBCD
A study found that "acute kidney injury (AKI)" can result from an interaction between the herpes drug Valacyclovir (Valtrex) and non-steroidal anti-inflammatory drugs (NSAIDs). Many other side effects may also occur. Acute kidney injury is the abrupt loss of kidney function, resulting in the retention of urea and other body waste products. Dr. Yue and colleagues wrote that "reports in AERS (the FDA's 'adverse event reporting system') are suggestive that interactions between valacyclovir and loxoprofen resulting in AKI may occur." (1) Dr. Yue and colleagues are from Tianjin University in Tianjin, China. In addition to AKI, Drugs.com reports that "valacyclovir may cause unwanted side effects that require medical attention." (See Drugs.com, last updated August 13, 2014 from Micromedex) (2) The CBCD recommends that individuals who take Valacyclovir pay attention to the initial signs of acute kidney injury, and in such a case, that they seek immediate medical attention. The CBCD also recommends that individuals infected with the herpes virus take a natural antiviral product proven to have no side effects in two post-marketing clinical studies that followed FDA guidelines.
Click to learn more about herpes symptoms.
The Center for the Biology of Chronic Disease (CBCD) recommends that people infected with the genital herpes virus (HSV-2, or HSV-1) take Novirin or Gene-Eden-VIR. The formula of these natural antiviral products was tested by Hanan Polansky and Edan Itzkovitz from the CBCD in two clinical studies that followed FDA guidelines. The studies showed that the Gene-Eden-VIR and Novirin formula is effective against the herpes simplex virus, and other viruses. The clinical studies were published in the peer reviewed, medical journal Pharmacology & Pharmacy, the first, in a special edition on Advances in Antiviral Drugs. Study authors wrote that, "individuals infected with the HSV … reported a safe decrease in their symptoms following treatment with Gene-Eden-VIR." (3) The study authors also wrote that, "we observed a statistically significant decrease in the severity, duration, and frequency of symptoms." (3)
Both products can be ordered online on the Novirin and Gene-Eden-VIR websites.
Novirin and Gene-Eden-VIR are natural antiviral dietary supplements. Their formula contains five natural ingredients: Selenium, Camellia Sinesis Extract, Quercetin, Cinnamomum Extract, and Licorice Extract. The first ingredient is a trace element, and the other four are plant extracts. Each ingredient and its dose was chosen through a scientific approach. Scientists at polyDNA, the company that invented and patented the formula, scanned thousands of scientific and medical papers published in various medical and scientific journals, and identified the safest and most effective natural ingredients against latent viruses. To date, Novirin and Gene-Eden-VIR are the only natural antiviral products on the market with published clinical studies that support their claims.
Drugs.com recommends that "if any of the following side effects occur while taking valacyclovir, check with your doctor immediately: discouragement, feeling sad or empty, irritability, lack of appetite, loss of interest or pleasure, tiredness, trouble concentrating … (and) … trouble sleeping." (2) In addition to mental side effects listed, Drugs.com also recommends to pay attention to physical side effects. These include: "body aches or pain, cramps, difficulty in moving, ear congestion, heavy bleeding, loss of voice, muscle aches, muscle pain or stiffness, nasal congestion, pain, pain in joints, sneezing, sore throat … (and) … stuffy or runny nose." (2)
"We recommend that individuals infected with the latent herpes virus take Novirin or Gene-Eden-VIR." - Greg Bennett, CBCD
To read the two clinical studies on the antiviral formula of Novirin and Gene-Eden-VIR, visit:http://www.scirp.org/journal/PaperInformation.aspx?PaperID=36101#.UzPvtaiSz90And:http://www.scirp.org/journal/PaperInformation.aspx?PaperID=44234#.UzPwAqiSz90.
Click to read more about Novirin and the herpes virus, or Gene-Eden-VIR and the herpes virus.
References:
(1) Yue Z1, Shi J, Jiang P, Sun H. Acute kidney injury during concomitant use of valacyclovir and loxoprofen: detecting drug-drug interactions in a spontaneous reporting system. Pharmacoepidemiol Drug Saf. 2014 Apr 30.
http://www.ncbi.nlm.nih.gov/pubmed/24788910
(2) Drugs.com - Valacyclovir Side Effects. Last updated on August 13, 2014.
http://www.drugs.com/sfx/valacyclovir-side-effects.html
(3) Polansky H, Itzkovitz E. Gene-Eden-VIR Is Antiviral: Results of a Post Marketing Clinical Study. Pharmacology & Pharmacy, 2013, 4, 1-8 http://www.scirp.org/journal/PaperInformation.aspx?PaperID=36101#.UzPvtaiSz90