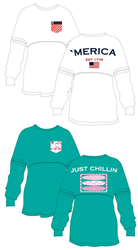 Dallas-TX (PRWEB) August 18, 2014
This start of the school year get shopping for the new Frocket Jerseys style top located on the online store. The Frocket Jersey will feature an American theme, and "Just Chillin" design that will go great with any event or get together. Wholesale customers are able to purchase and customize their own design if they choose.
The Frocket Jerseys are now available at the online store for $45.00 in a selected range of colors. Frocket, in continuing its famous history of embracing all-American style is perfect for on or off campus casual wear. Frocket's Jerseys are perfect for groups out for an occasion whether attending a local bar or catching the game on a Saturday morning.
Frocket is the original pocket apparel. All items are made in house, and the new design will be perfect to show off individual patriotism. Ladies, enjoy the new flamingo pocket design with the words, "Just Chillin," on the back side of the jersey. The jerseys will be used on campus during this year's fraternity and sorority rush week to bring together all groups of people on campus.
About Frocket:
Frocket® was founded by alumni of the University of Texas in Austin and Southern Methodist University in Dallas, who established Frocket's parent company in year 2000. As designer and creator of The Original Frocket, the pocket-apparel company delivers the highest-quality designs and materials in constructing its signature product. Available through its online store at Frocket.com and carried in select stores throughout the U.S., Frocket provides teens, college students, and many more with a unique product available in countless color, pattern, and design options to customize the apparel. For more information on Frocket or any of its unique pocket apparel items, please visit: http://www.frocket.com/. Further inquiries can be directed to Alison Weinberg via email or phone.