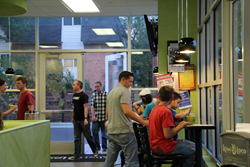 Rexburg, ID (PRWEB) August 18, 2014
Restaurant Furniture Supply recently teamed up with frozen yogurt shop Kiwi loco, in Rexburg, Idaho to update their seating by supplying them with new commercial bar stools.
Kiwi Loco is a self-serve frozen yogurt shop where customers can assemble their own creation from a variety of many flavors. Customers can add their own toppings as well. The price is based on the net weight. The flavors change periodically and unique new flavors such as cotton candy and angel food cake are also sometimes introduced. Toppings include dry topping such as sprinkles, nuts and candy such as gummy worms. They also offer fresh fruit such as blueberries, boysenberries, strawberries, raspberries, bananas, kiwi, pineapple, mango and blackberries. They also have sugar free toppings such as chocolate covered pretzels.
They have four location throughout Idaho in Twin Falls, Idaho Falls and Pocatello. They also have locations in Ontario, Oregon and Chandler, Arizona. They offer many non-fat frozen yogurts s such as Original Tart, Euro Tart and High Culture. They also have premium frozen yogurts and non-dairy sorbets. Kiwi Loco is very popular with youth and they frequently show children's movies in the back.
"The owner turned to Restaurant Furniture Supply for bar stools because of their reputation for excellent quality at affordable prices," explained sales person Chris K. "He opted to go with the Metal Ladder Back Bar Stool with a black frame finish and black vinyl padded seats. It's one of our most popular bar stools across America. As a popular frozen yogurt shop he needed a classic bar stool that he knew would be durable and stand up to heavy usage without getting wobbly or breaking, like a bar stool not constructed for commercial use would tend to do," Chris K. said.
Restaurant Furniture Supply's Metal Ladder Back Bar Stool is currently on sale for $54. In addition to the padded vinyl seat which the owner selected, the bar stool also comes with solid wood seats in cherry, dark mahogany, walnut, natural and black. Customers also have the option of an American made padded seat upholstered in vinyl or fabric. The frame comes in black, gold, copper vein, silver vein or gold vein. A matching Metal Ladder Back Chair is also available and sells for $35.
Browse Restaurant Furniture Supply's full selection of commercial grade chairs, bar stools, table tops, table bases, booths and patio furniture at http://www.restaurantfurnituresupply.com/ or talk to a customer service representative at (888) 346-9992.
Kiwi Loco is located at 160 W. 2nd St. in Rexburg, ID. They can be contacted at (208) 356-5954.