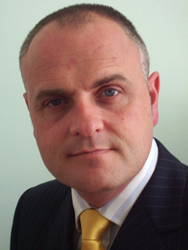 "I am delighted to help assist the PSI-Pay team in its next phase of development. I have been closely associated with Phil Davies and PSI-Pay over many years and look forward to being a part of its on-going success."
London (PRWEB UK) 19 August 2014
PSI-Pay, one of the UK's leading end-to-end, account and card-based payment solutions companies, is proud to announce that Craig James has joined the board of Directors.
Craig is a highly Experienced FCA (FSA)/E-Money and PrePaid Compliance/Regulatory and Anti Money Laundering specialist. He has held Controlled Functions 1, 2, 10 and 11 for both UK and International Financial Services companies. Having overseen the compliance / MLRO functions of organisations such as Firepay (Optimal Payments) and Paysafecard he brings considerable business experience and knowledge, along with a full understanding of balancing risk management, regulation and performance.
He has a significant track record in e-money and payment services, including advising on the development and release of some of the largest pre-paid schemes in the UK and advising numerous non-UK pre-paid organisations. He is also the Chairman of the industry representative body PIF (Prepaid International Forum).
Craig's experience within the regulatory and risk management environment will ensure that PSI-Pay are 'ahead of the game' with the proposed new EU regulations, particularly as they expand into other EU territories
"I am delighted to help assist the PSI-Pay team in its next phase of development. I have been closely associated with Phil Davies and PSI-Pay over many years and look forward to being a part of its on-going success." Says Craig
Phil Davies, Managing Director of PSI-Pay Ltd commented: ''I am pleased to welcome Craig to the board of directors which now completes our management restructuring. His wealth of experience and professional standing will be of great value as PSI continues to roll out its expansion plans throughout Europe and beyond."
Notes to editor
For press queries please contact Gary Pilkinton on +44(0) 7446950422 / +44 (0) 1622 431413
About PSI-Pay Ltd
Globally renowned for our secure, online e-wallet, PSI-Pay is an FCA regulated company that provides an instant, secure and private means for individuals and businesses to send and receive money globally.
PSI-Pay is authorised by the FCA under the electronic money regulations 2011 (register reference 900011) for the issuing of electronic money.
PSI-Pay is also an established member of MasterCard offering bespoke virtual and physical card programs for companies and individuals worldwide. These include corporate expense management and remote staff payment schemes that utilise PSI-Pay's self-card and account issuing facilities.
MasterCard is a registered trademark of MasterCard International Incorporated.
Learn more about PSI-Pay at http://www.psipay.com or contact us at business(at)psipay(dot)com.