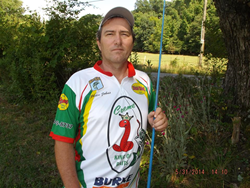 Write your trips down, take winter pictures, and never trust your memory: it never works like an ink pen.
Yankton, South Dakota (PRWEB) August 19, 2014
Eddie Johns explained to ProPatterns the secret which has led to over 200 wins spanning some thirty years of competitive fishing, and why his entry into the contest shows his support for ProPatterns' education.
As Johns explains, "Back in the 80's, pros would come off the stage and stand with the crowd instead of hiding behind the stage. I met (fishing legend) Hank Parker at one of the tournaments that weighed in at the Birmingham Civic Center." Johns goes on to explain that he asked Parker the most important secret to long-term tournament success: "He simply said to me, 'Write your trips down, take winter pictures, and never trust your memory: it never works like an ink pen. Be very specific and incredibly detailed, never let anyone read it, it's your hard work.' I've been 'writing it down' ever since."
Fans can vote for Eddie Johns' entry at the Exposed Eligible? Facebook page. He vies for a chance to win a grand prize fishing and filming package with television personality Timmy Horton. The competition, voted on by fans and judged in the final round by a panel of Exposed pros, also features hundreds of dollars in ProPatterns merchandise for the other top-ten entries.
While not on the water competing, Johns visits high school bass fishing teams to offer advice about tournament success, starting with the message, "write it down." He tells ProPatterns, "that these anglers don't believe sometimes how important this is, so I tell them that pictures of their fish, and other (documented) information, with an introductory video, will make a great presentation to send to a college asking for a scholarship to their bass team—instead of just an application."
Considering all the variables that are involved in the sport, Johns recommends that beginning anglers focus on several key elements when starting to document their experiences on the water: "Focus on drawing your own detailed map of the area," he tells ProPatterns, "time of day when you caught fish and where on your map, and what worked (be specific), the speed of bait—fast, medium or slow retrieve—and lastly, water temperature, weather (cloudy, clear or before a front, during, or after, et cetera). Recording the month of the year with the date is also handy to find it next year in the journal. This is where keeping a small notebook handy with you on the water is a good thing."
As the Exposed Eligible? film contest approaches the closing date for submitting entries, the journaling feature on theProPatterns.com website will also receive a facelift. The journaling feature offers anglers the chance to record many of the same elements Johns has been documenting for decades. Anglers have the opportunity to keep their journals private or make them public on a newer, more aesthetically appealing angler profile page.
With its emphasis on education, ProPatterns asked Johns to explain why educating youth was so important to him. He explains, "Fishing is an activity that requires you to have a different thought process. A thought process for PLANNING YOUR FUTURE on the water, REQUIRING ADVANCED STUDYING on your own, DESIGN OR REDESIGING something to make it work, IMAGINATION to create your own way of doing things right, CONFIDENCE IN YOURSELF that you will do great things the next day, VISUALIZATION of what you can't see, COMPETITION against one of GOD'S ultimate creations that feels, sees, tastes, has freedom of thought, that gives you no indication of what it wants that day. A young angler that is successful in this can do anything in a positive way for himself."
The submission window for ExposedEligible - Pro Patterns runs through Aug. 31, 2014. To learn more about Exposed, Exposed Eligible? and all other ProPatterns offerings please visit http://www.ProPatterns.com.
More About ProPatterns, Inc. and Exposed:
ProPatterns, Inc. is a leader of angling education by sharing professional fishing tips, industry information and member services online. In addition, ProPatterns offers prize filled competitions, sharing of information among peers, and connections to industry professionals and media through means available nowhere else.
Information is gathered from various sources and disseminated with members in a variety of ways. The Exposed video series, for example, gains all of its integrity from an alignment with the biggest names in the bass fishing industry including professionals who fish with BASS, FLW, and PAA. Cooperation from the anglers and their willingness to share is the catalyst for the growth of this series.