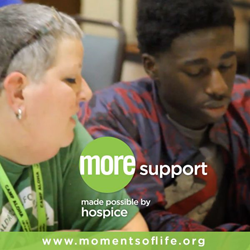 Savannah, GA (PRWEB) August 18, 2014
"Grief through a Child's Eye," a touching and inspiring three-minute video filmed during this year's Hospice Savannah's annual children's grief camp, is being featured on the National Hospice and Palliative Care's new website "Moments of Life made possible by Hospice."
The Moments of Life campaign is hoping to change the nation's perception of hospice care by sharing the uplifting experiences of patients and family members which may not have otherwise been possible without the help of hospice. Hospice Savannah, Inc. was honored to have footage from this year's Camp Aloha selected for inclusion on the site, and hopes the film will inspire families to recognize that children grieve and need a safe place to process their feelings and emotions.
"Life is hello. Life is goodbye" is the mantra every child and teen is encouraged to take to heart at Camp Aloha, the weekend-long overnight camp facilitated by the bereavement staff and volunteers of Hospice Savannah. Although every camper is different, they have one key thing in common – the loss of a loved one. Some of those loved ones received hospice care, others did not. Camp Aloha exists for the sole purpose of helping children and teens between the ages of 6 and 17 to understand and normalize their grief.
The touching three-minute video shows snippets from Camp Aloha's commencement ceremony and closing campfire ceremony and features brief interviews with Full Circle bereavement coordinator, Holland Morgan and with Hospice Savannah's VP of Service Excellence, Jamey Espina. The video can be accessed through the Moments of Life website: http://www.momentsoflife.org/stories/grief-through-child%E2%80%99s-eyes Resources and counseling for grieving children are available through Hospice Savannah's Full Circle, located at 450 Mall Blvd., Savannah, GA. Call 912-303-9442 or visit http://www.HospiceSavannah.org/GriefSupport.
<br>About the company:<br>Hospice Savannah, Inc., a not-for-profit organization, provides the community with the best services and resources for living with a life-limiting illness, dying, death, grief and loss. Hospice Savannah exists to help lift the burden of worry when people receive or a loved one receives a life-limiting diagnosis. Together, more than 250 volunteers and more than 200 full- and part-time staff members are committed to fulfilling the mission of Hospice Savannah. For more information, call 912-355-2289 or visit their website.