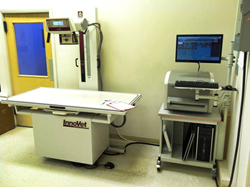 The Innovet makes the transferrable, digital radiography possible!
Streetsboro, OH. (PRWEB) August 18, 2014
Dr. Scott Leffler has taken the Animal Medical Center of Streetsboro to the next, advanced, and digital level through various new technologies involving X-rays.
Dr. Leffler has recently applied a new $48,000 system into his veterinary practice making the X-ray process faster, more cost-efficient, and easier to access. X-raying the animal on the Innovet by Centura X-ray Radiation is the first step to the process.
"After an image is taken via the Innovet, a digital cassette is uploaded into the digitizer. My images are transferred to my computer screen and stored in my hard drive," said Dr. Leffler. "I can then transfer images to my iPad via an app called OsiriX HD and walk into the exam room to show my client what is right or wrong with their pet."
The compactness, accessibility and speed of the CR 10-X are what make this equipment worthwhile. With the readiness to throughput 34 plates per hour with measurements of 14"x17" and without compromising any images, this system expedites X-rays and allows for the prompt iPad viewing of the pet's body part.
Not only does the CR 10-X digitize X-rays, but they can also be printed via the Drystar 5302 Imager with the correct film. However, because the CR 10-X can digitize, this eliminates the necessity of purchasing film, therefore, making X-rays more affordable.
Dr. Scott Leffler of the Animal Medical Center of Streetsboro is changing the traditional methods of veterinarians, and he is remaking the world of veterinary needs. For more information, please visit http://animaldogtor.com/.
About the Animal Medical Center of Streetsboro
The Animal Medical Center of Streetsboro is a full service animal hospital. Its mission is to partner with clients to provide a longer, healthier and happier life for their animal companions. The clinic is committed to providing quality veterinary care throughout the life their clients' pets.
###