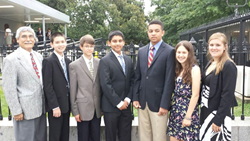 Washington, DC (PRWEB) August 18, 2014
Three students who participated in the Army Educational Outreach Program's eCYBERMISSION competition were recognized at a White House ceremony last week, which honored young innovators in environmental sciences and protection. Their team advisor and another eCYBERMISSION team advisor were also recognized at the event.
The students, Daniel Burgess, Joey Titus, and Ethan Trepka from Iowa City, Iowa, along with their eCYBERMISSION team advisor Hector Ibarra, received the President's Environmental Youth Award (PEYA) for their work in solving problems associated with restaurant food waste. Laura Wilbanks, a teacher at Whiteface Elementary School in Whiteface, Tex. and multi-year eCYBERMISSION team advisor, received the Presidential Innovation Award for Environmental Educators (PIAEE) for her work in developing problem-based outdoor environmental education programs.
The students and teachers were among 17 teachers and 60 students from across the nation honored for their contributions to environmental education and stewardship. The awards recognize the outstanding contributions of student leaders and teachers to ongoing efforts to solve pressing environmental challenges across the United States.
The Iowa students were all members of Team Chasing Methane, which competed in the 2013 eCYBERMISSION National Judging and Educational Event as seventh graders. Their project focused on reducing methane emissions from restaurant waste in landfills, a major contributor to overall greenhouse gas emissions. The team worked to understand how compacted food waste breaks down in landfills compared to when it is composted. Using an EPA formula, the team determined the reduction in methane production when food is composed and then conducted food waste audits. These audits eventually convinced local landfills to change they way they process restaurant waste, resulting in a reduction of methane emissions. The team then worked with their state legislators on a bill to study ways to reduce methane emissions from food waste.
Wilbanks has spent more than 25 years developing innovative outdoor environmental education programs that challenge her students to solve real-world problems using science, technology, engineering and mathematics (STEM). Her instruction goes beyond the classroom and into their communities and the outdoors, where students gain hands-on, project-based, real-world experience and learn the importance of team building through activities such as eCYBERMISSION and her own Science Rocks U program.
Given the nature of the eCYBERMISSION program's hands-on, problem-based approach to STEM education, it is perhaps not surprising that students and teachers achieved national recognition through their participation in the program. Each year more than 25,000 students in sixth through ninth grades across the country participate in the program, which is administered by the National Science Teachers Association on behalf of the AEOP.
eCYBERMISSION is one of several STEM initiatives offered by the AEOP. The U.S. Army is committed to answering the nation's need for increased national STEM literacy and expanding STEM education opportunities across the country to open doors to new career paths for America's students that lead to a brighter tomorrow.
More information on the eCYBERMISSION program can be found at http://www.ecybermission.com. More information on the AEOP can be found at http://www.usaeop.com.