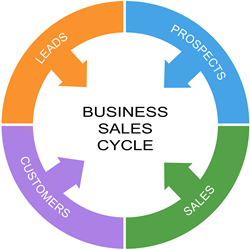 Marketing automation makes the most of a long sales cycle by handling lead nurturing processes automatically.
(PRWEB) August 18, 2014
GetUSales, a leader in Infusionsoft DFY campaigns, has just released an informative blog titled "Marketing automation makes the most of a long sales cycle." The blog can be read here.
Marketing Automation Makes the Most of a Long Sales Cycle
Though many people abhor the effort involved in guiding a customer through a long sales cycle, a long sales cycle can actually be a very good thing, especially when using a marketing automation platform like Infusionsoft to nurture leads.
What is a sales cycle?
The sales cycle starts when a business first makes contact with a client and ends when that client makes a purchase. Sales cycles can range from a few minutes to a few years, depending on the product.
What's the problem with a long sales cycle?
The biggest complaint with a long sales cycle is that a company can easily invest a lot of time and resources into nurturing a lead and then have them drop off. This is not only frustrating, it's a waste of time and resources.
How does marketing automation help with a long sales cycle?
Marketing automation takes all the expensive marketing and time-consuming lead nurturing out of the equation for companies with a long sales cycle. A marketing automation platform like Infusionsoft takes all the steps from first to last in the sales cycle and automates them – getting better results more affordably and with much less work by the business owner.
Here's how marketing automation works:
1. Get a new lead, either with a phone call, a website visit, or a face-to-face meeting.
2. Enter that lead's contact information into Infusionsoft. If the lead comes from the company website, Infusionsoft can import that information automatically.
3. Connect that lead to whatever email marketing campaigns are most relevant to them.
4. Infusionsoft will drip the leads educational, engaging content at predetermined intervals of time. Emails can include videos, offers, articles and more.
5. Once leads are active in their campaigns, the business owner can peek into the system at any time to see their activity within the campaigns. Infusionsoft allows scores each lead as well, making it ultimately easy to tell which leads are hot and need to be contacted directly, and which leads need further nurturing. Leads are scored by adding points to their profile every time they perform an action. For example, a lead that opens every email and watches every video would have more points than a lead that only opens emails occasionally.
6. When the time is right, the business can contact leads who are hot and make the sale. Leads who are not as ready to purchase will keep being nurtured by their campaigns.
Let Marketing Automation Streamline Your Company's Long Sales Cycle
GetUSales offers pre-made Infusionsoft marketing automation packages for five industries: real estate, wedding coordinators, CrossFit gyms, chiropractors and dentists. These packages come with ready-made campaigns with all the content and time schedules needed to make the most of each and every lead that crosses a business' path. For more information, visit http://www.GetUSales.com today or call at 855-834-4850.