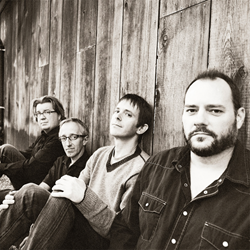 Fairfield, CT (PRWEB) August 18, 2014
Fairfield Theatre Company welcomes iconic 1990's alternative rock band Toad the Wet Sprocket at 8 p.m. Friday, Aug. 29. to the Norwalk Concert Hall.
Named in honor of a sketch by the Monty Python comedy troupe, Toad the Wet Sprocket formed in 1986 in their native Santa Barbara, CA and became one of the most successful alternative rock bands of the early '90s. After releasing their first LP, Bread & Circus, 25 years ago on their own independent label, singer Glen Phillips, guitarist Todd Nichols, bassist Dean Dinning and drummer Randy Guss now find themselves making their return to the stage a quarter of a century later. They're bringing back their signature, contemporary folk-pop sound; a sound that exerts enough melody and R.E.M.-styled jangle to straddle both modern rock and adult contemporary stations.
With countless Billboard-charting hits, including, "Walk on the Ocean," "All I Want," "Something's Always Wrong," and "Fall Down," Toad the Wet Sprocket are still one of the biggest names in music. Nowhere is this more evident than on their latest release, New Constellation, their first record since 1997. New Constellation was funded by fan support through a Kickstarter campaign with a goal of $50,000. Their fans spoke out and met the goal in less than 24 hours.
Sixteen years is a long time and a great deal has changed in the pop scene, but Toad The Wet Sprocket continue to prove that, like a fine wine, age only makes things better. New Constellation pops up like an artifact from a time capsule, bearing all of the hallmarks of '90s pop/rock that audiences have yet to let go. New Constellation demonstrates Toad's perfectly symmetrical songwriting, their deeply- positive choruses, polished production and arrangements, up- tempo songs and a sound that is truly all its own that has been lost in time.
Join Fairfield Theatre Company as they present another fantastic night of music at the Norwalk Concert Hall and celebrate 25 years of Toad the Wet Sprocket with classic hits and new favorites which won't disappoint.
About the company:
Fairfield Theatre Company is a highly-acclaimed non-profit performing arts organization located in the heart of downtown Fairfield, Connecticut. FTC presents nearly 250 performances and concerts each year featuring outstanding national talent on FTC's StageOne in Fairfield, The Klein Auditorium in Bridgeport, and the Norwalk Concert Hall in Norwalk. FTC's intimate 200-seat StageOne concert venue is widely recognized as being one of the best places to see a live performance in the region. FTC is dedicated to providing the highest-quality arts, live entertainment and educational experiences to the communities it serves.