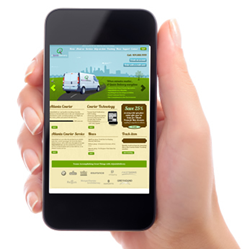 Atlanta, GA (PRWEB) August 19, 2014
AQuickDelivery, a recognized leader for same-day delivery, messenger and transportation services in Georgia, announces courier tracking e-mail notifications. The same-day courier has made the announcement in efforts to market its line of value-added services, promote customer loyalty, and increase online order sales growth. AQuickDelivery strives to be the best choice in same-day delivery courier solutions throughout the Atlanta and Georgia areas.
AQuickDelivery issues the Atlanta courier tracking e-mail notifications to customers as a convenience to monitor their same-day delivery. When the customer is placing their order via phone, an AQuickDelivery customer service specialist requests not only the caller's name and phone number, but also an e-mail address. Once the order is processed, the customer will receive an instant order confirmation notification via e-mail with an order reference number.
The e-courier order system used by AQuickDelivery, sends various tracking e-mail notifications regarding the customer's order, which includes a pick-up e-mail confirmation and delivery confirmation. The delivery e-mail notification will not only inform the customer their package or freight has been delivered, but also the delivery time and who signed for the shipment. For online orders, customers have the ability to insert their e-mail address for the tracking e-mail notifications they desire to receive at each point of the delivery.
For customers, this provides peace of mind regarding their courier service, knowing the AQuickDelivery utilizes the latest in courier technology in handling their packages. For physical signatures, customers can simply contact the courier and AQuickDelivery can automatically provide via e-mail or fax.
AQuickDelivery is a premier same-day courier service offering transportation and distribution services. From small packages to palletized freight, AQuickDelivery delivers fast! As a leader in the courier industry, their goal is to perform optimal courier logistic solutions and superior customer service every time. The courier provides same-day delivery successfully for over 1,500 clients, including Fortune 500 companies.