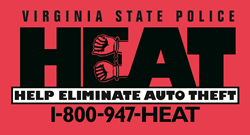 A total of 8,319 thefts were reported in 2013 – six percent fewer than reported in 2012.
Richmond, Va. (PRWEB) August 18, 2014
The Virginia State Police Help Eliminate Auto Theft (H.E.A.T.) Program has just released the "Analysis of 2013 Virginia Motor Vehicle Theft Statistics," which indicates a continued reduction in vehicle thefts in Virginia.
A total of 8,319 thefts were reported in 2013 – six percent fewer than reported in 2012. This is consistent with national data and new numbers reported today by AAA Mid-Atlantic.
The state has seen a significant decline in motor vehicle thefts of almost 61 percent since the H.E.A.T. Program began in 1992. Prior to that, from 1987 to 1991, motor vehicle thefts in Virginia had increased 42 percent, according to the annual report. To read the complete statistical analysis and download a copy, go to http://bit.ly/1uHzJVa.
Also of note is the reduction in the number of teenagers being arrested for motor vehicle theft in Virginia. Thefts by persons 20 years old or younger were 31.6 percent in 2013. In 1991, arrests for motor vehicle thefts in that same age group reached 62 percent. In 2013 there were no arrests for motor vehicle theft in the 12 years and younger age group, as compared to the 90 arrests in 1993 for in this age group.
There is seasonality to the incidence of motor vehicle thefts. June through August are the leading months for these thefts, with close to 30 percent of them occurring during this time frame. In addition, more than 75 percent of all motor vehicle thefts reported in Virginia are in three areas of the state: Tidewater, Northern Virginia and Richmond.
Founded in 1992, H.E.A.T. is a cooperative effort of the Virginia Department of State Police, Virginia Department of Motor Vehicles and local law enforcement agencies to combat auto theft throughout the commonwealth.
The H.E.A.T. Program offers rewards for tipsters up to $25,000 for auto theft-related information leading to arrests. Tips can be submitted online at http://www.HeatReward.com or by calling the theft tip line (1-800-947-HEAT). Tipsters always remain anonymous. For more information about the H.E.A.T. program, visit http://www.HeatReward.com or Facebook.
###