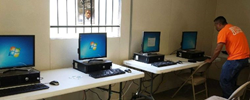 We like to come in and provide solutions for an organization or company.
Houston, TX (PRWEB) August 19, 2014
Enstep Technology Solutions, a technical support business in Houston, Texas, installed a seven station computer lab at the Heaven's Army location in Patton Village, Texas on August 14, 2014.
Brett and Amy Passmore, owners of Enstep, started working with the Heaven's Army founder, LaNora Purvis, three years ago. "LaNora really had a place in her heart to do a computer lab at that location and we just knew it was the least we could do to help her make that dream come true," explained Amy Passmore.
The new computer lab will be helping to fulfill a need in the community, according to Purvis. Her vision for the lab is to assist community members who need help getting back on their feet again. Purvis' goal is for them to use the computers free of charge to search for employment online, create resumes, and fill out job applications.
Enstep is also servicing all of the location's technology requirements, including issues relating to server connections, cables, and infrastructure, according to the owners. "We are basically going to be taking care of all of their tech needs," said Brett Passmore. "We like to come in and provide solutions for an organization or company."
They also assisted Heaven's Army this summer by sending over their four interns to help out the nonprofit, explained Enstep's co-founder. "Because LaNora is such a blessing to that community, our team likes to lend a hand as well," Brett Passmore continued.
"I love that when she needs something for the community, she never hesitates to ask," said Amy Passmore. Her husband agreed, "She just knows that God's people are out there and that they want to help. It's a beautiful thing."
This collaboration with Heaven's Army is not the first for Enstep. According to the couple they have donated their time and resources on past projects and will continue lending their support to the organization's community efforts.
Heaven's Army is a nonprofit organization head quartered in New Caney, Texas. The purpose for founding Heaven's Army Resources & Recreation Center is to help people in the community during difficult times with their physical, emotional, and spiritual needs, according to Purvis.
"To enrich their lives in a positive way, by giving people the opportunity to receive things they normally do not have access to, cannot afford, or simply just do not have the understanding that they can achieve a more rewarding life," Purvis continued.
About Enstep
Founded in 2001, Enstep Technology Solutions is a technology business partner and IT service provider for the small to medium business (SMB) market in the greater Houston, Texas area. They proudly operate a lean business model that allows them to be very flexible and accommodating in providing support and leadership to an organization.
For more information, visit their website: http://www.enstep.com or call them at 281-901-0091.