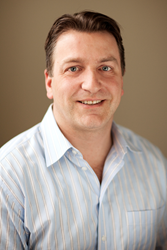 'I view this award as a testament to our entire organization as it would never have been possible if it weren't for the collective efforts of every cleverbridge employee and the community we support.' — Craig Vodnik, co-founder, cleverbridge
Chicago, IL (PRWEB) August 18, 2014
cleverbridge, a global full-service e-commerce provider for software and cloud companies, announces that the Illinois Technology Association (ITA) has named cleverbridge co-founder, Craig Vodnik, a finalist for the 2014 ITA CityLIGHTS CEO of the Year Award. This award recognizes company leaders who over the past year have successfully led company growth, attracted and retained talented resources, and developed an ongoing corporate strategy for continued financial success. Winners for each of the eight ITA CityLIGHTS categories will be announced at a gala event on Sept. 18 at Morgan Manufacturing in Chicago.
Now in its 15th year, the ITA CityLIGHTS program honors companies and individuals whose innovation and success drive growth in the technology industry and in Illinois. Each year, the program attracts more than 600 people from 400 organizations including business owners, investors, legislators and policymakers. All finalists are selected by a panel of accomplished judges representing the Who's Who in Illinois technology. The public can contribute to the selection of this year's winners by voting from Aug. 18–Sept. 8 at http://www.itacitylights.com. Winners will be determined by composite score (50 percent judges; 50 percent community voting) in all categories except the CityLIGHTS Award, which is determined solely by the ITA Board of Directors.
"Even after 15 years, I am still in awe of the caliber of finalists and companies we get to celebrate each year," said Fred Hoch, CEO, ITA. "Our CityLIGHTS program is about raising the bar for the future of Chicago tech and I'm proud to say it gets a little higher and harder every year – the sky's the limit for Craig and cleverbridge, as far as I'm concerned."
"I'm deeply honored and humbled to have been selected as a finalist for this amazing honor, among this group of industry leaders," said Vodnik. "Throughout our history at cleverbridge, we have achieved tremendous growth and reached incredible milestones, and this past year has been no exception. I view this award as a testament to our entire organization as it would never have been possible if it weren't for the collective efforts of every cleverbridge employee and the community we support."
Vodnik was also recently named a finalist for EY Entrepreneur Of The Year™ 2014 in the Midwest. The awards program recognizes entrepreneurs who demonstrate excellence and extraordinary success in areas such as innovation, financial performance and personal commitment to their businesses and communities. Founded in 2005, cleverbridge has been profitable since 2007 and has grown from the four founders to more than 250 employees between offices in Cologne (Germany), Chicago, San Francisco, and Tokyo today. Outside of cleverbridge, Vodnik has continued to help develop other entrepreneurs as a mentor at 1871 and Catapult Chicago, and is a member of Hyde Park Angels.
To view the 2014 ITA CityLIGHTS list of finalists or cast your vote for the award category winners, visit http://www.itacitylights.com between Aug. 18 and Sept. 8. To learn more about cleverbridge, please contact inquiry(at)cleverbridge(dot)com or visit http://www.cleverbridge.com.
About cleverbridge
cleverbridge is a proven leader in e-commerce expertise, technology and services for leading software and cloud companies that serve consumers and businesses. For more than 300 clients – including Avira, Corel, Dell, Malwarebytes and Parallels – cleverbridge is a true extension of their teams, understanding each client's billing models, markets, channels and specific e-commerce requirements. cleverbridge provides an unsurpassed customer experience so that clients can strategically leverage e-commerce to effectively build customer relationships and generate more revenue. Headquartered in Cologne, Germany, cleverbridge has offices in Chicago, San Francisco and Tokyo. For more information, visit http://www.cleverbridge.com or the Building Keystones blog.
About the ITA
The Illinois Technology Association (ITA) is an enabling organization powering the growth of tech in Illinois. Through vibrant programs, services and strategic consulting, the ITA drives our dynamic industry by working to grow, build and elevate our members. For more information, visit illinoistech.org, follow the ITA on Twitter at twitter.com/itabuzz, and view the ITA's Facebook profile at facebook.com/illinoistechnology.