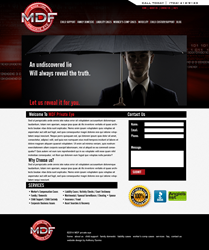 Charlotte, NC (PRWEB) August 20, 2014
MDF, Charlotte Private Investigations has announced the launch of its new website, the private investigation experts have been serving the North and South Carolina regions since the company's inception in 1996. Customers seeking professional investigative help can now connect with MDF on the internet and get a glimpse of the services provided by the investigators.
MDF's reputation has been built on more than 17 years of experience successfully serving its clients, and has established itself as the premier private investigative service firm in the region. Initially based in the Huntersville, North Carolina area, MDF Private Investigations has established a highly skilled and experienced support team and has now expanded to serve all the Carolinas. MDF prides itself on a long standing collaboration and partnership with several law firms and law enforcement officials from the local and state level to agencies that operate at the federal level.
MDF's private detectives are well-versed in a variety of areas and afford their clients the best possible mix of knowledge and expertise. The new site lists the services provided by the Private Investigations firm, which include: * Background Checks (criminal history, reference check & DMV search) * Matrimonial (infidelity, surveillance and family law) * Custody Cases (surveillance, research, witness statements and asset information) * Insurance Claims & Legal Services (workers' compensation, disability, and liability) * School District Services (address history/verification, surveillance, testimony) * Sports/Recreational Inquiries (laws/regulations, licensing, ownership laws) * Trial Prep (consultations, subpoenas, notarizations, and court filings) * Surveillance (digital equipment, hidden cameras, tracking, etc.) New MDF clients will be afforded an in-depth consultation before investigators decide on a course of action, which may include surveillance to build a dossier of information that can be presented in court. MDF team members are prepared to provide expert testimony under oath to support their findings.
MDF's website also provides a link for Frequently Asked Questions (FAQ) so potential clients can decide whether they need a private investigator and get an idea of the best way to go about selecting one. While prospective clients can now find MDF on the web at mdprivatei.com, they can still contact the firm by phone at (704) 412-9123.