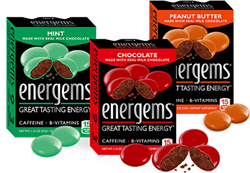 Charlotte, NC (PRWEB) August 20, 2014
Chocolate Energy Energems™ and Circle K are partnering to help promote Weenie Roast 14 in three Circle K locations. Circle K will be giving away four (4) VIP passes for the VIP RV Ultimate Experience to the all-day concert on September 6th.
In support of the concert, Energems® is giving away a free box of 3-serving Chocolate Energy Energems every Friday in August at participating Circle K locations, as well as hosting a Twitter-based Circle K Southeast Sweepstakes to win a month supply of Chocolate Energy Energems.
1065 The End will live-remote broadcast from three Circle K locations, starting August 22nd. Each of the three events will provide customers a chance to win the VIP RV Ultimate Experience at Weenie Fest 14 and free Chocolate Energy Energems samples. One winner will receive four (4) reserved tickets to the show.
The live remote events will be at the following Circle K locations:
August 22
4pm-6pm
9501 University Blvd, Charlotte, NC 28213
August 30
1pm-3pm
3424 Matthews-Mint Hill Rd, Matthews, NC 28105
September 3
5pm-7pm
9101 Sam Furr Rd, Huntersville, NC 28078
About Chocolate Energy Energems™
Chocolate Energy Energems™ is a new generation of energy supplements made with real milk chocolate, B-vitamins, and a proprietary energy blend. Three Energems® can deliver the same energizing effects as a strong cup of coffee—without the calories or jitters†. The energy supplement comes in three flavors mint chocolate, peanut butter chocolate and milk chocolate.
About Circle K Southeast
For more than 50 years, Circle K has been one of North America's most popular and successful operators of convenience stores. Today, there are more than 3,300 Circle K stores across the USA and over 4,000 international locations.
For more information on Chocolate Energy Energems™, visit http://www.energems.net. To schedule an interview, request a media kit or request Energems samples, contact Laura Finklehoffe at 954-949-3470.
†This statement has not been evaluated by the FDA. This product is not intended to diagnose, treat, cure or prevent any disease. Individual results may vary.