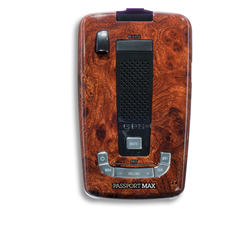 Major industry experts including SEMA and Popular Mechanics continue to rate ESCORT as the leading provider of the most advanced radar detectors available.
Bristol, TN (PRWEB) August 18, 2014
ESCORT Inc. (ESCORTinc.com), announced that its SEMA Show 'Best New Product' winner, the world's first and only all-digital detector, the PASSPORT® Max™ High Definition windshield mount radar/laser detector and its new Laser Shifter Pro™ laser defense system will be featured on the Velocity Network's popular TV show Motorhead Garage.
The two ESCORT products are detailed in this week's episode (number 1421) of the long-running Motorhead Garage automotive enthusiast show that appears weekly on the Velocity Channel. Hosts Sam Memmolo and Dave Bowman advise their cablecast viewers of the latest automotive technologies and this week feature PASSPORT® Max™ and the Laser Shifter Pro™ laser defense system as part of the airing. The episode airs originally mid-week and then repeats on the weekend:

Tuesday, 8/19/14 @ 5:00PM (ET) on Velocity
Sunday, 8/24/14 @ 1:00PM (ET) on Velocity
"Key industry and media experts such as SEMA, Popular Mechanics, CNET and Car And Driver agree that our PASSPORT Max™ digital detector is the best detector we have ever released," said Ron Gividen, ESCORT PR/Media Director. "And our Laser Shifter Pro™ protects drivers at the speed of light against difficult laser targeting technologies," he added.
PASSPORT® Max™ uses advanced Digital Signal Processing that delivers record setting response time; longest reception range; and best sensitivity for detecting never-before-seen low level signals.
The all-new Laser ShifterPro™ is ESCORT's most advanced laser defense system ever. Laser ShifterPro™'s superior performance is based on its use of true laser diodes to maximize effectiveness against difficult-to-beat targeting laser guns.
For more information about the PASSPORT® Max™ all-digital detector or the Laser Shifter Pro™ laser defense system, view ESCORT Inc on YouTube, visit ESCORTinc.com or call the company direct at 800.433.3487.
About ESCORT Inc.
ESCORT Inc. is the designer and manufacturer of the world's most awarded radar and laser detectors, the patented ESCORT Live™ real-time ticket protection network, PASSPORT® Max™ HD radar detector, Laser Shifter Pro™ laser defense system and other Drive Smarter products. ESCORT holds more than 85% of all active category patents and manufactures products under the ESCORT, PASSPORT, REDLINE, SOLO and BELTRONICS brands.
Editorial Contact:
Ron Gividen
513.870.8500
press(at)escortinc(dot)com