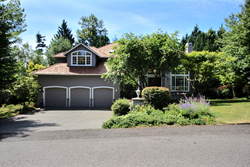 Hale says he has enjoyed "the peace and quiet of the country gentleman lifestyle"
Woodinville, WA (PRWEB) August 26, 2014
Singer/songwriter Ed Hale may be best known for his Billboard Top 40 hits "Scene in San Francisco" and "New Orleans Dreams", but he's called Seattle, WA home, at least partially, for more than five years. The singer and his wife have been living bicoastally, splitting their time between their house in Woodinville, WA just outside of Seattle and their Upper West Side apartment in New York City. But they have decided to relocate to living full-time In Manhattan starting in the fall. So they are selling their Seattle based home. The 5 bedroom, 4 bath house is on the market for $1.1 million.
Hale says he has enjoyed "the peace and quiet of the country gentleman lifestyle" afforded by the couple's large spacious home in the English Hill neighborhood of Woodinville, but with his new album, "Another Day in the Apocalypse", coming out later this year, he's felt the pull of the more metropolitan buzz of New York, and believes it will be better suited to the media frenzy and day to day activities that accompany a new album release. Though it's ironic the singer recorded the majority of his new album at his home recording studio in this Seattle home.
Situated just on the edge of a country lane lined with equestrian ranches, the house affords much-sought-after privacy a mere thirty minutes from the city of Seattle, along with plenty of green space and wildlife species. The property is a registered wildlife sanctuary with the National Wildlife Preservation Society. The couple purchased the 5,700-square-foot home in 2010. The 5-bed, 4-bath abode was built in 1996 and maintains a classic elegance with a bohemian artist's charm that one would expect from Transcendence singer Ed Hale.
The three story house is the perfect large family home with a spacious chef's kitchen, .... a basement floor retreat -- where Hale kept his recording studio and a large spacious rec/game room that includes a pool table, ping pong and a large screen TV. This bottom floor also has a two story cedar wood deck outside featuring a hot tub and plenty of yard space. There is also a tranquil frolicking stream on the property -- the same one that can be seen in Hale's 2010 music video for the song "Hello My Dove". If visitors examine the lush foliage of the home's backyard carefully, they just might be able to find the singer's and his wife's initials carved into a tree or two.
For more information or to schedule a private showing please contact Jonathan Villalobos of The Villalobos Group at RE/MAX Eastside Brokers, Inc. Direct: 425-450-1654.