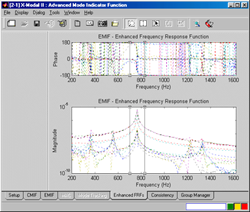 Irvine, California (PRWEB) August 20, 2014
VTI Instruments is excited to introduce the recently updated X-Modal III software for modal analysis. This software was created by the University of Cincinnati, Structural Dynamics Research Lab (UC-SDRL) in conjunction with VTI Instruments and several other companies to provide users with a simple, yet powerful modal analysis, ground vibration testing/measurement, MIMO shaker testing, and multi-reference impact testing software.
When used with any of VTI's Smart Dynamic Signal Analyzers (DSA's), users can create a turn-key modal analysis solution with intuitive, task oriented user interfaces, extensive modal parameter estimation algorithms, parallel display capabilities, flexible data management, and embedded data acquisition capabilities. VTI's DSA products integrate IEEE-1588 precision time protocol to allow tight syncrhonization of the modules distributed over LAN. This allows for measurement data that can be syncrhonized across mainframes to within 100 nanoseconds, and sample rates of up to 625 kSa/s.
X-Modal III supports four application modes:
Shaker Test - continuous and burst random types of excitation
Hammer Test - preview GUI with double hit and overload detection & rejection
Power Spectra - Response only analysis - Operation Modal Analysis (OMA), Nearfield Acoustic Holography (NAH)
Time Capture - for plain time history data recording
Over 20 video tutorials are available to users to help them take advantage of the many features of this software.
To find out more about X-Modal III please visit our website, or speak directly to an applications engineer to configure the ideal modal analysis solution for your needs.