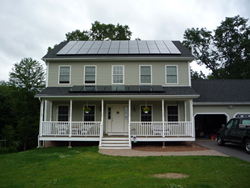 "This is a very exciting opportunity for Brookfield," said Marcia Wilkins, Chair of the Town's Energy Committee
Brookfield, CT (PRWEB) August 19, 2014
As Solarize Brookfield heads into its final six weeks the program is hosting its last workshop on August 25th at Brookfield Town Hall on 100 Pocono Road at 6:30 pm to give residents a chance to learn the benefits of going solar and how they can save money through this town sponsored program. At the workshop Ross Solar Group, the town's official Solarize installer, will talk about how solar works, how it helps homeowners reduce utility bills, and how financing options allow homeowners to install solar with little or no money down.
"This is a very exciting opportunity for Brookfield," said Marcia Wilkins, Chair of the Town's Energy Committee. "We've had very positive response by residents, and already over twelve homeowners have signed contracts with Ross Solar to put solar on their homes. We're confident a whole lot more will be taking advantage of the program before the deadline ends."
Solarize is a unique program offered by CEFIA in partnership with SmartPower that increases residential solar through a proven formula. It leverages group discounts through a pre-selected installer to reduce the cost of solar; it relies on the community to provide outreach and education to create awareness and build interest, and it promotes a clear end date that motivates residents to act. Solarize Brookfield's program ends on Tuesday, September 30th. Homeowners must sign a contract by then to participate in the discounts offered through the program.
Residents who are interested in learning more about Solarize Brookfield are urged to attend the August 25th workshop.
More information about Solarize Brookfield can be found by visiting http://www.solarizect.com/brookfield or contact the Ross Solar Group at (203) 512-4500.