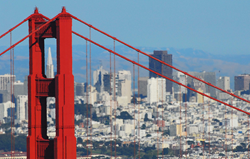 San Francisco, California (PRWEB) August 18, 2014
In three weeks the Urban Land Institute (ULI) will hold its Building the Resilient City: Risks and Opportunities conference in San Francisco. The conference – taking place at the Hyatt Regency San Francisco on September 4-5, 2014 – will gather land use leaders in both the public and private sectors. Participants will spend two full days sharing best practices and actionable tools for how cities can minimize risks from climate change, increase the value of a real estate development, or strengthen a community's ability to bounce forward when disaster strikes.
Reserve your spot today by registering as complimentary press! Request your press pass here.
The conference includes a lineup of prominent land use and real estate experts who will speak on a variety of industry topics, including:

Best Practices in Resilience Planning from Across the San Francisco Bay Area
Evolving Economics of Pricing Risk to Buildings
Leveraging Green Infrastructure to Create Value and Reduce Risk
How Capital Providers Weigh Resilience
The Business of Resilience in the San Francisco Bay Area
Featured speakers include:

Henk Ovick, principal of the Rebuild by Design competition, an initiative of the Hurricane Sandy Rebuilding Task Force and the U.S. Department of Housing and Urban Development, will present key lessons and best practices from the competition, emphasizing how cities can (re)build in stronger, smarter, and more adaptive ways.
Harriet Tregoning, the new director of the U.S. Department of Housing and Urban Development's Office of Economic Resilience, will discuss the role of the federal government in creating resilient cities, how barriers to creating public/private partnerships can be overcome, and HUD's newest sustainability efforts.
Paul Hawken, environmentalist, entrepreneur, and author, will be part of a panel discussion with Peter Calthorpe, principal at Calthorpe Associates, and Dan Siegel, executive director of the Mindsight Institute, on the ways in which people are responding to the stresses of climate change impact.
Conference cochairs Hamid Moghadam, CEO of Prologis, and Jonathan Rose, president of Jonathan Rose Companies LLC, will take part in a panel discussion with ULI Chairman Lynn Thurber about why resilience matters to the real estate industry.
The full CONFERENCE AGENDA is available online.
The conference was organized as part of ULI's Urban Resilience Program, which aims to provide leadership on how to build stronger, more adaptive buildings and cities. In addition to the Building the Resilient City conference and other dialogues, the program's work has included numerous resilience efforts. The initiative began in 2013 with an advisory services panel for the New York and New Jersey region following Hurricane Sandy. The panel offered post disaster guidance on (re)building in ways that boosts economic prosperity and preserves the environment.
Reserve your spot today by registering as complimentary press! Request your press pass here.
About the Urban Land Institute
The Urban Land Institute (http://www.uli.org) is a global nonprofit education and research Institute supported by its members. Its mission is to provide leadership in the responsible use of land and in creating and sustaining thriving communities worldwide. Established in 1936, the Institute has more than 32,000 members representing all aspects of land use.