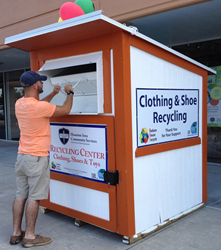 Back2School is an ideal time to give back by donating unwanted clothing and shoes to support local charities.
Houston, TX (PRWEB) September 02, 2014
During its 2nd annual Shop&Recycle campaign, American Textile Recycling Service (ATRS) set record-breaking numbers by collecting approximately 3.3 million pounds of textiles at Back To School community events in 15 regions nationwide.
The campaign encourages families, college students and school kids to shop responsibility at green-minded retail destinations while donating their outgrown, out of season and unwanted clothes, shoes, sporting gear and household textiles to support local charities.
Events were hosted by Simon Malls, Brixmor Properties and retailers like Sports Authority in Dallas and Kohl's at Val Vista in Phoenix to provide easy, convenient drop off locations and community education during Tax Free Weekends and throughout the month of August as shoppers geared up for Back To School.
Every item donated raised funds for local nonprofit partners such as Susan G. Komen, Giving Children Hope, MADD, and hospitals in the Children's Miracle Network. Shoppers at Kohl's at Val Vista heard personal testimonies from mothers in residence at Weldon House who volunteered their time to greet shoppers and share how they rely on ATRS Recycling bins to help fund their programs. Shoppers at selected Sports Authority stores in Dallas participated in the Smiles for Shoes drive to benefit school children from Boys and Girls Club Dallas. ATRS gave away over 100 pairs of nearly new shoes to kids who otherwise would not have had footwear for school. At the Mayor's Back To School Fest in Houston, over 25,000 deserving school kids received free backpacks, school supplies and more from area sponsors including ATRS Recycling.
With kids set to spend up to $913 million of their own money on back to school trends, the buying power of students is at an all time high. The National Retail Federation reports 1 in 10 parents make all of their back to school shopping purchases based on their student's input. For ATRS Recycling it's an ideal time to remind students, families and parents about the importance of shopping sustainably while supporting charitable programs and services in their neighborhoods.
To learn more about American Textile Recycling Service's Annual Back2School Shop&Recycle Campaign or to find a year-round clothing donation drop off location, call the 24-Hour Hotline 866-900-9308 or visit http://www.atrsonline.com/Shop&Recycle.
American Textile Recycling Service (ATRS) is the nation's fastest growing textile recycler. Its socially responsible business model provides free textile recycling solutions for the public, job stimulation worldwide and much-needed funding for worthy local charities. Easy, convenient ATRS Recyclers are available throughout Michigan; Southern California; Oklahoma; Tennessee; Dallas; Atlanta; Orlando; Phoenix, Scottsdale, Tempe and Tucson, AZ; Houston, San Antonio, Austin, Galveston and Beaumont, TX and Colorado. For press inquires contact pr(at) atrscorp(dot)com.