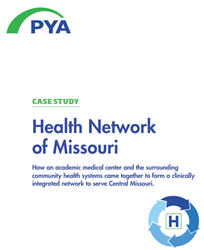 Knoxville, TN (PRWEB) September 26, 2014
In their pursuit of the Triple Aim—improved patient experience, improved population health, and reduced costs—many health systems now are exploring collaborative partnerships as an alternative to consolidation.
In forming the Health Network of Missouri, the University of Missouri Health System (MUHS) and four surrounding community health systems are pursuing a strategy of preserving their independence through interdependence. Working together as a clinically integrated network, these health systems now are focusing on population health management, care coordination, and relationships with payers and employers.
PYA's "Case Study: The Health Network of Missouri," details the process the health systems employed to develop and operationalize collaboration. With PYA's assistance, the health systems have positioned themselves to meet the challenges of new payment and delivery models and better serve their respective communities.
The case study provides a model for other healthcare organizations interested in exploring a similar strategy to achieve their strategic goals.
PYA assists health systems in meeting challenges by providing education for governing bodies, leadership teams, and medical staffs; facilitating dialogue in the board room; performing governance effectiveness reviews; and identifying, developing, and implementing strategic initiatives.
---
About PYA - For over three decades, Pershing Yoakley & Associates (PYA) has provided timely insight and strategic support, helping clients thrive in the midst of rapid change. PYA is ranked by Modern Healthcare as the nation's twelfth largest privately held healthcare management consulting firm. For more information, visit http://www.pyapc.com/.