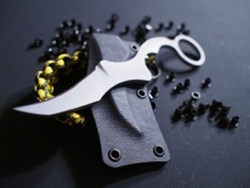 Missouri City, TX (PRWEB) August 21, 2014
TheUltimateKnife.com is extremely excited to announce the PKM, or Pikal Karambit Mix, the new hybrid fighting knife from Max Venom that combines the edged weapon style of the Pikal fighting knife with the intuitive and comfortable features of the Karambite.
The Karambite, introduced in 2010, was designed by Max Venom founder Colin Despins to provide customers with a knife that utilized minimalist design but could inflict serious damage when needed for self-defense. The Karambite took off with customers and became enormously popular, but many clamored for a knife of similar design with a larger blade. Despins decided to maintain the original design for the Karambite model, and it remains a top seller.
However, the feedback Despins received on the blade length of the Karambite to develop a new knife to meet the needs of customers who wanted a longer blade. With that in mind, the PKM was born. The PKM combines the utility and ergonomic design of the Karambite with inspiration from the Pikal, a popular Filipino Martial Art blade. The PKM features the following specifications:
• Overall Length: 6.625"
• Blade Legnth: 2.375"
• Steel – S35VN
In addition, the PKM comes with its own custom sheath for easy concealment.
The PKM has the same quality, workmanship and materials of the Max Venom Group and THeUltimateKnife.com's other products, and is a perfect fit for customers interested in the Karambite but desiring a longer blade.
TheUltimateKnife.com is proud to be a reseller of Max Venom's PKM and other quality products.
About TheUltimateKnife.com
TheUltimateKnife.com is an official reseller of quality combat and self-defense knives, and carries many products and brands, including the Fox Karambit, The Max Venom Karambite, and other knives and self-defense products. TheUltimateKnife.com is owned by RenuTech solutions, a leading provider of self-defense and security solutions. For more information, visit http://www.TheUltimateKnife.com and http://www.renutechsolutions.com