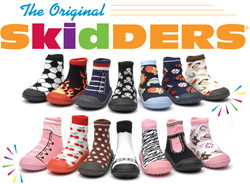 Skidders are the perfect shoe for baby to use when they start walking.
New York City, NY (PRWEB) August 20, 2014
Skidders Footwear made their debut back in 2008 with the original Skidders Shoe - a patented children's shoe that features a knit upper sock and a soft flexible rubber outsole. The shoes are easy to put on the baby so there is no fussing with laces or velcro straps. The rubber sole is durable and protects the baby's foot and toe area, making it easier for kids to stand and balance on their tippy toes. The best part is the flexible outsole, making it feel natural and comfortable for the baby to walk.
"There was a belief that babies required a stiff leather shoe to help them balance and promote walking development, but these formal types of shoes are clumsy and don't provide a natural walking experience for the child. That is why Skidders are the perfect shoe for baby to use when they start walking," says Michael Matalon, President and Merchandise Manager of NY-based Skidders Footwear.
"It's almost like walking barefoot, which is the most natural experience and best way to promote proper walking development. In addition, Skidders shoes have a full rubber outsole to enhance traction on wood and tile flooring so kids can run around the house safely without slipping or falling."
With safety at the core of Skidders' unique line of gripper footwear products, the brand is crafted to fit a family's active lifestyle with a range of socks and shoes that are comfortable, versatile, stylish and safe. What started out a few years ago as a small collection of baby shoes, Skidders now has over 40 categories and nearly 1,000 styles.
"We develop all products in our NYC design studio and work closely with our manufacturers to create quality products at competitive prices. We are also authorized licensees of NFL, CLC & MLB team properties. In the coming years, we know you will start hearing about the Skidders brand more often, especially moms. We have over 180,000 fans on Facebook and 99% of them are women aged 23-35. They love the brand and their referrals are expanding the brand awareness."
Skidders recently announced an introduction of a new women's footwear collection of Slippers, Grip Socks, Flip Flops and Jelly Flats. Skidders is quickly transforming into a lifestyle brand with focus on unique footwear products. Skidders management expects to substantially grow the business in the next few years with a wide variety of retail customers, from department stores to mass merchant retailers, and internationally to over 20 countries.