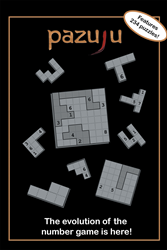 We developed a game app for tablets and smartphones, but we knew we also wanted a pen-and-paper way to play.
Toronto (PRWEB) August 19, 2014
Science is discovering that certain kinds of games can provide more to players than entertainment alone. They can also help improve memory, reasoning and motor skills.
Sharing not only a love of games, but also a life together, married couple Sarah and Jonathan Tillger are the creators of the new game Pazuju. Combining elements of a jigsaw puzzle with the immensely popular number game Sudoku, Pazuju offers different levels of difficulty to players searching for a fun new game.
"We developed an app for tablets and smartphones, but we knew we also wanted a pen-and-paper way to play the game," said Sarah. "We are huge fans of games in the newspaper. We will help each other with crosswords and other number games. It's a nice way to start the day together."
In the book, a bound version of printed Pazuju puzzles, players are required to arrange fragments of a number grid into the right spots before using numbers to fill out the completed grid.
The popular Luminosity games have helped to popularize the idea that by simply playing a game, one can keep his or her mind at its sharpest. Pazuju combines the need for spatial reasoning with reductive logic, bringing a product to gamers that is both entertaining and beneficial to cognitive processes.
For more information, visit http://www.pazuju.com.
"Pazuju"
By Sarah and Jonathan Tillger
ISBN: 978-1-4931-7490-4
Softcover price: $17.73
Available in softcover
Available on Amazon, Barnes & Noble, iTunes and Xlibrus
About the author
Sarah and Jonathan Tillger are business owners living in Toronto. In addition to running a business together, they also collaborated on the creation of Pazuju. Their love of number games led them to create one of their very own, which features a jigsaw twist.
# # #
For review copies or interview requests, contact:
Matt VanScoik
317.602.7137
mvanscoik(at)bohlsengroup(dot)com