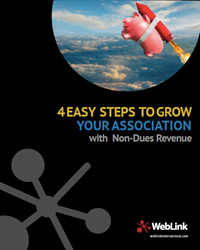 Indianapolis (PRWEB) August 25, 2014
Gone are the days when membership dues accounted for nearly 96 percent of an association's revenue: as of 2007 that number is closer to 37 percent according to The Center for Association Leadership.
In an era of free social networking services, associations feel pressure to keep dues steady, while still generating revenue. Consequently, many associations are turning to non-dues revenue programs such as sponsorships, web advertising programs, events and continuing education — and even merchandise sales.
In "Four Easy Steps To Grow Your Association with Non-Dues Revenue," DJ Muller, president and founder of WebLink International, outlines the four steps that are crucial to creating alternative revenue streams that work. These elements include:

Engage your members.
Plan your distribution.
Deliver value.
Evaluate and renew or rethink.
With more than 20 years' experience in the technology industry, Muller has keen insights on the challenges facing chambers and associations as they navigate member engagement in the 21st century.
"Non-dues revenue are a great opportunity for associations to diversify cash flow while also providing extra value for members," Muller said. "Through extra services associations allow members even more opportunities to stay on top of networking and industry practices in today's fast paced world."
To receive a free copy of the e-book visit: http://info.weblinkinternational.com/non-dues-ebook
About WebLink International
Founded in 1996, WebLink International is the provider of WebLink Connect, the insightful, innovative and easy-to-use association management software. Backed by dedicated customer support and unparalleled industry expertise, WebLink empowers hundreds of trade and professional associations and more than 500,000 small and medium businesses to help them acquire and retain more customers. WebLink International is headquartered in Indianapolis, Indiana. For the latest, follow @WebLink on Twitter, follow WebLink International on LinkedIn or visit weblinkinternational.com.
About DJ Muller
DJ Muller is president of WebLink International, a position he has held since the company's incorporation in 1996. Muller attended St. Cloud State University in St. Cloud, Minn., majoring in business administration. Muller is a frequent speaker at national, association and technology conferences, chambers of commerce and guest lecturer at colleges and universities.