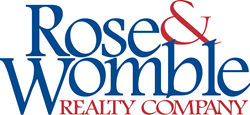 Virginia Beach, VA (PRWEB) August 20, 2014
According to data obtained from the Real Estate Information Network (REIN), Rose & Womble Realty Company was number one in real estate sales for July 2014 in the Hampton Roads real estate market. For the month, the company was 11% higher in sales than the next company.
The company is also number one in sales year-to-date in the Hampton Roads market, which covers the areas of the Virginia Peninsula and Southside, including the cities of Hampton, Newport News, Suffolk, Portsmouth, Norfolk, Virginia Beach, and Chesapeake.
"This continued growth in the market is a testament of the hard work of our agents and managers," said Ron Foresta, Jr. Vice President of Resale Operations.
About Rose & Womble Realty Company
Rose and Womble Realty Company is headquartered in Virginia Beach; with over 600 resale agents, they have been consistently listed on National Relocation & Real Estate Magazine's Annual Power Broker Reports. In addition to its New Homes Division, Rose and Womble has ten resale offices and various other departments which include: Relocation, Property Management, and Marketing. Affiliated companies include Residential Data Bank (market research), Advance Title & Abstract, and Land Planning Solutions. To learn more about Rose & Womble Realty Company, visit http://www.roseandwomble.com.
# End #