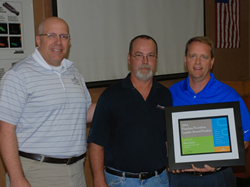 Cincinnati, Ohio (PRWEB) August 22, 2014
Recently, Definity Partners paid tribute to two of the 2014 Fearless Frontline Leader Award finalists both from Cast-Fab Technologies, in a ceremony that took place in front of their peers and supervisor's at the Cast-Fab Technologies facility in Cincinnati, OH. The finalist and other employees in attendance were not told in advanced about the ceremony. They were under the impression that they were going to have their regular Friday morning meeting. This made the presentation much more impactful. The excitement in the room was obvious when the company's president announced what was really going on. Hearing the reaction of each finalist's team members and the congratulatory comments that followed exemplified the reasons the frontline leaders were nominated and selected in the first place. Each of the finalists truly represents what manufacturing and leadership should and could mean in our country today.
The morning began with a speech from Definity Partners' own Rich Cary on the background and reasoning behind why this award was created. This was followed by a showing of the video on the frontline leader who inspired the award, Mike Stilwell. Mike was a dedicated and enthusiastic frontline leader at Norris Screen in Tazewell, Virginia. Tragically, Mike was killed in an ATV accident in May of 2013. Definity Partners worked with Mike and still works with other courageous frontline leaders like Mike, every day. As a tribute to Mike, his family, and the hardworking frontline leaders across the nation, Definity Partners created the Fearless Frontline Leader Award. Mike's family was recognized at the dinner in May and awarded an honorary Frontline Leader Award plaque in Mike's name. His daughters were also given $1,000 scholarships in honor of their father's fearless leadership.
Dave Earls of Cast-Fab (Cincinnati, OH) and Larry Wells also of Cast-Fab (Cincinnati, OH) were honored as Finalist for the first-ever Fearless Frontline Leader Award. Ross Bushman, President and CEO of Cast-Fab Technologies, paid tribute to both Dave and Larry by presenting inspiring stories of their work on the front line and how they've both evolved and grown into valuable and irreplaceable employees over their years with the company.
The ceremony ended with each finalist giving a small speech showing their gratitude towards being recognized for this award and how they were honored to be considered as being the same type of leader as Mike Stilwell. Both were very appreciative and humbled that their president thought of them and took the time to nominate each of them for their inspiring work ethic and the effect they have on others at their facility. Dave and Larry both thanked their teams they lead within the company letting them know that it is because of hardworking and reliable employees like them that their job as supervisors is enjoyable.
With the creation of the Fearless Frontline Leader Award, Definity Partners will continue to promote excellence in frontline leadership and endorse the benefits of developing a proactive work place that encourages employee involvement, frontline leader empowerment, process simplification and team building.
The Fearless Frontline Leader Award will be presented each year to inspirational frontline leaders across the nation. To nominate a frontline leader for 2015, or for more information on the Fearless Frontline Leader Award, please visit http://www.fearlessaward.com.
About Definity Partners, LLC.
Definity Partners exists to help people achieve more than they ever thought possible. Known as the leading consulting firm focused particularly on empowering frontline leaders to run your business, we are about developing people, changing cultures, attracting the best talent and driving improvements. From your executives, managers, and frontline leaders, to our own associates, we empower people to drive change, improve their environments and transform their organization into a contagious culture for growth.
Definity Partners is not your typical consulting firm. In fact, we were founded by Ray Attiyah in the early 90s specifically to fill the gap between what traditional consultants have to offer, and what the market actually needs. In essence, we don't just promote ideas for improving your business like a typical consulting firm- we demonstrate your improvements by working beside you, modeling behaviors, confronting the tough challenges with you, and helping you to rapidly implement change that leads to cultural transformation and bottom-line results.
Our hands-on approach to driving change, developing people, and building leadership skills starts with the front line and extends to the executive suite. Our dedicated RIG Leaders (expressly trained on the Run, Improve, Grow business model) work closely with your people, digging in and getting our hands dirty, being on-site when the first employee arrives until the last one leaves, and doing whatever it takes to get the job done. Definity Partners has a deep passion for driving sustainable and continuous improvements. And we share that passion with everyone we work for - and everyone who works for us.
Definity Partners is bound and determined to help manufacturing facilities attract the next generation of fearless frontline leaders by being innovative, empowering employees and driving leadership from the front lines. Manufacturers take note: now is the time to innovate, educate and attract your future front lines. Be bold. Be fearless.
There are always award programs for CEOs and other top leaders, but rarely do you find an award program that recognizes excellence in frontline leadership. We are excited to promote the inspirational, bold and courageous leaders that are out there every day working hard to develop their teams on the front lines.