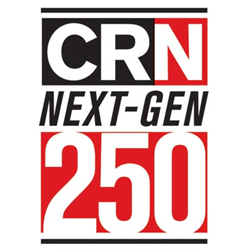 The Next-Gen 250 list gives a nod to those IT providers who are best equipped to guide business owners through the profound shifts in technology happening today.
Hoboken, NJ and New York City, NY (PRWEB) August 21, 2014
eMazzanti Technologies, a New York City area IT consultant and managed services provider has just earned a spot on CRN's NextGen 250 List for the second consecutive year.
The list recognizes solution providers founded within the last 15 years that are focused on cloud computing, mobility, virtualization, unified communications and other emerging technologies.
The 250 Solution Providers on the list are hand-picked from research, vendor and analyst interviews, and CRN editorial coverage.
Placement on the list recognizes that eMazzanti has invested heavily in services and certifications for emerging technologies as a means of differentiating their services and delivering lasting value to their customers.
"The Next-Gen 250 list gives a nod to those IT providers who are best equipped to guide business owners through the profound shifts in technology happening today," noted Carl Mazzanti, CEO, eMazzanti Technologies. "eMazzanti is transforming businesses with virtualization, cloud computing, data center and mobility solutions."
The award will be presented at the Best of Breed (BoB) Conference, October 13-15, 2014, Hyatt Regency Grand Cypress, Orlando, FL. This year's conference features notable live keynote speakers, including HP's Meg Whitman.
The BoB Conference brings the best and brightest together to celebrate the solution providers who have achieved some of the highest levels of recognition in the industry.
According to Best of Breed organizers, today's thought leaders will gather at BoB to define the channel of the future while illuminating the pathways for growth.
"BoB attendees recognize that change creates opportunity," said Mazzanti. "We show our clients how to grow and profit from changes in technology and business models."
The NextGen 250 List and the associated Best of Breed Conference are part of CRN's Tech Elite, Solution Provider 500, and Fast Growth communities.
Other related resource information:
eMazzanti Site Shows How Businesses Save Money and Grow Faster with Server Virtualization, Mobile and Cloud Technologies
Emazzanti to Show Mobile/BYOD and Human Security Solutions at Cyber Security Summit
About eMazzanti Technologies
eMazzanti Technologies' team of trained, certified IT experts provide 24×7 outsourced IT support to help ensure business productivity, address challenges of growth, cloud computing, mobility, critical business continuity and disaster recovery demands. The consultancy has special expertise in manufacturing, distribution, retail, financial, architectural, engineering, construction, government, educational, legal services, accounting, marketing communications, and healthcare market segments, while maintaining high customer satisfaction levels.
eMazzanti serves the Hoboken, NJ and NYC area markets as well as regional, national and international business support requirements. The IT firm is Microsoft's 2012 Partner of the Year and on-going Gold Partner, Microsoft Northeast Region Partner of the Year, a five-time recipient of WatchGuard's Partner of the Year, and has achieved the Inc. 5000 list for the fifth year in a row. Download the free article: How to Select an IT Provider here. More than 400 companies trust their IT support needs to eMazzanti Technologies. For more information contact: Carl Mazzanti 201-360-4400 or emazzanti.net. Twitter: @emazzanti , Facebook: Facebook.com/emazzantitechnologies.