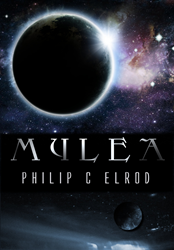 The characters were believable, the plot was intriguing and I loved the undercurrent of humor.
Richardson, Texas (PRWEB) August 20, 2014
Philip C. Elrod, the author of Mylea, a new science fiction novel, announces that print and all eBook editions are now available. Mylea is the story of a civilization that has achieved incredible technical and scientific marvels. Yet, now, they appear to be helpless to save themselves from the total destruction of their planet. Only one scientist has proposed a plan that might save them. His plan is larger and more complex than any project ever attempted, by anyone, anywhere.
Unfortunately for Mylea, unintended consequences of political decisions may doom the plan to failure. This brilliant civilization might be lost forever without the help of one unique Earthling. This human being must be made aware that he is vital to Mylea's survival. He is far away and it will take many years to get to him. Until he has been reached and his help enlisted, he must be protected at all costs. Will he accept his destiny or will he reject the awesome responsibility thrust upon him?
How can this individual be groomed to complete the task? Can he be trusted? Who can he trust? How can one person save millions? This is a powerful story that involves an American Rhodes scholar, a mysterious old man, a canine diva, a human-like robot and a colossal computer. The story weaves the lives of extraordinary people and machines that are drawn into this carefully orchestrated plan to save Mylea. Minimal contact with other Earthlings is essential. Even the tiniest miscalculation could prove disastrous. Will they succeed or will Mylea be forever lost in the dark reaches of outer space?
Mylea is a science fiction novel to be enjoyed by all types of readers, even those who do not usually care for that genre. There are no giant lizards or insects eating humans. There are no death rays or interstellar wars. This is s story of a people struggling to survive perils of epic proportion and how they enlist the help of one man who bears the final responsibility for their fate.
Mylea is available in both hard copy and Kindle formats from Amazon.com: http://www.amazon.com/dp/B00JT1YUCA.
And all eBook formats from Smashwords.com: https://www.smashwords.com/books/view/459320.
Philip C. Elrod is a computer system analyst/designer and securities trader residing in Richardson, Texas. He has written extensively in the technical fields of computer technology and technical securities trading.
Additional information can be obtained from the author's website: http://www.pcelrod.com.