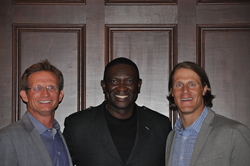 We are also mobilizing our team of employees to participate in acts of service to the community.
Lafayette, LA (PRWEB) August 19, 2014
The Handley Family Foundation, the philanthropic division of Michael and Schanda Handley's privately owned companies, has announced recipients of contributions for Summer 2014. A report from the Board of Directors shows that recipients include Samaritan's Feet, Games of Acadiana, the Young Leadership Council, and 24 Hours of Booty.
The mission of the Handley Family Foundation is to support organizations that foster and develop human potential by nurturing spiritual, physical, and mental wellness and growth. Board Chairman Michael Handley says, "We are so proud to be able to be of service to our community, but monetary donations only go so far. We are also mobilizing our team of employees to participate in acts of service to the community."
The Handley Family Foundation hosted a successful fundraiser in Lafayette for Samaritan's Feet in July. The intimate event for a select group of community leaders was held at Ruth's Chris Steak House in Lafayette. Samaritan's Feet is a humanitarian aid organization that shares a message of hope and love through washing the feet of impoverished children around the world and adorning them with new shoes.
The Games of Acadiana, started in 2001, has become a premier event in Lafayette, with proceeds supporting Miles Perret Cancer Services. The event took place at the Cajundome and Convention Center on August 16, 2014. Handley Family Foundation was one of the sponsors of the event and dozens of Handley volunteers donated their time as well.
The Young Leadership Council is the largest member-driven non-profit in New Orleans, LA. The YLC creates leadership opportunities for young professionals through community service. The Handley Family Foundation was a sponsor of the 2014 Role Model Gala that took place at the Hyatt Regency Hotel in New Orleans on August 9, 2014. The foundation has supported the YLC for a number of years, including as a sponsor of the YLC Wednesday at the Square concert series.
Other Handley Family Foundation donation recipients include the 24 Hours of Booty organization, which provides funding to Livestrong, as well as local cancer charities including the Levine Cancer Institute, the Brain Tumor Fund for the Carolinas, and the Keep Pounding Fund.
If an organization is interested in applying for a donation or grant from the Handley Family Foundation, please visit http://www.handleyfoundation.org for more information.