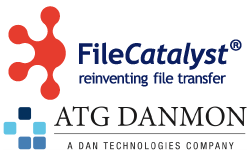 [FileCatalyst] gives video production companies, post-production facilities, and broadcasters the ability to collaborate globally.
Ottawa, Canada (PRWEB) August 27, 2014
Unlimi-Tech Software, Inc., a pioneer in managed file transfers and the creator of the Emmy® Award winning FileCatalyst, a world leading accelerated file transfer solution, is pleased to announce the appointment of ATG Danmon as its UK-based channel distribution partner.
"ATG Danmon is one of the world's most highly experienced and innovative broadcast system integrators. We're thrilled to partner with them to bring innovative, file transfer solutions to their clients," comments Alan Atkinson, Vice President of Business Development at Unlimi-Tech. "ATG Danmon will offer our range of accelerated file-transfer solutions to media and broadcast clients looking to increase transfer speeds without compromising reliability or security. FileCatalyst, which is immune to packet loss and latency, is designed to transfer large files over vast geographical distances."
"Our customers have been looking for solutions capable of delivering large media files quickly and efficiently," adds Chris Elson, Product Sales Manager at ATG Danmon. "FileCatalyst ensures the transfer of any file, of any size or format, at speeds up to 10 gigabits per second. It gives video production companies, post-production facilities, and broadcasters the ability to collaborate globally."
Secure accelerated file movement has revolutionised the way media content is shared and collaborated upon. With the transition to digital content several years ago, movement of large files became a major issue for broadcasters and studios. The subsequent evolutionary shift to HD, and now to 4K/UHD, has caused file sizes to grow far beyond the capabilities of traditional FTP. Unlimi-Tech has pioneered the secure and accelerated file transfer technology now relied upon by those in the media and broadcast industry.
FileCatalyst has been selected to receive the 66th Annual Technology and Engineering Emmy® Award for Secure Accelerated File Movement over IP including the Internet.
About Unlimi-Tech
Located in Ottawa, Canada, Unlimi-Tech Software (http://www.filecatalyst.com) is the creator of FileCatalyst, a world leading accelerated file transfer solution. Founded in 2000, the company has more than a thousand customers in media & entertainment, energy & mining, gaming, and printing, including many Fortune 500 companies as well as military and government organizations. FileCatalyst is an Emmy® Award winning software platform designed to accelerate and manage file transfers securely and reliably. FileCatalyst is immune to the effects that latency and packet loss have on traditional file transfer methods like FTP, HTTP, or CIFS. Global organizations use FileCatalyst to solve issues related to file transfer, including content distribution, file sharing, and offsite backups. To learn more visit http://www.filecatalyst.com or @FileCatalyst on Twitter.
About ATG Danmon
Part of the Dan Technologies Systems Integration Division, ATG Danmon (http://www.atgdanmon.co.uk) offers a comprehensive range of services including workflow-design, project-planning, equipment installation, software-configuration, commissioning, documentation and on-site training. It has assisted many clients in the design, integration and commission of newsrooms, live and drama production studios, technical control rooms, file-based digital archives, post-production and playout suites plus the upgrade of existing SD systems to HD.
Embracing tomorrow's technology, ATG Danmon delivers maximum value through close co-operation with customers, leading to mutually beneficial long-term relationships. All system components are sourced on the basis of fitness for purpose rather than any commercial affinity.
ATG Danmon has the in-house skills and resources to cover several projects simultaneously, including 800 square metres of production space.
Senior management staff supervise all projects, ensuring accurate and consistent procedures. ATG Danmon has a proven track record in the management, design, installation, and commissioning of broadcast projects in many countries.
Contacts for further information
Unlimi-Tech Software: Charlene Morling
Email: cmorling(at)filecatalyst(dot)com
ATG Danmon: Nicola Boddington
Email: nicola.boddington(at)atgdanmon(dot)co.uk
Tel: +44 (0)1462 485 444
Press support: David Kirk, Stylus Media Consultants
Email: stylusmedia(at)gmail(dot)com
Tel: +44 (0)1342 311 983
Unlimi-Tech Software Inc., Suite 205 1725 St. Laurent Blvd., Ottawa ON, Canada K1G 3V4
Tel: +1.613.667.2439
Fax: +1.613.667.5950
ATG Danmon, 1 Iceni Court, Icknield Way, Letchworth, Hertfordshire SG6 1TN, UK
Tel: +44 (0)1462 485 444
Fax: +44 (0)1462 485 777
Web: http://www.atgdanmon.co.uk