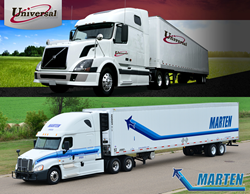 Marten and Universal have shown a clear dedication to improving the health and comfort of their driving force.
Brentwood, TN (PRWEB) August 18, 2014
Swiftwick, a leading U.S. producer of athletic compression socks, announced today its partnership with two leading carriers to introduce its new HEALTH+ Medical Class II graduated compression socks to professional truck drivers. Marten Transport and Universal Truckload Carriers will join Swiftwick to promote the socks at the Great American Trucking Show (GATS) in Dallas, Texas, August 21-23. The socks, which provide compression from the ankle to below the knee, improve blood flow in the lower leg, alleviating health and comfort issues drivers often experience during long hours on the road.
"Today's truck drivers spend many muscle-straining hours behind the wheel, which can raise their risk for a variety of health problems," said Mark A. Cleveland, CEO and co-founder of Swiftwick. "Marten and Universal have shown a clear dedication to improving the health and comfort of their driving force."
The first 150 Marten and the first 150 Universal drivers to visit their respective employer's booth will receive a voucher for free Swiftwick HEALTH+ compression socks to redeem at Swiftwick booth #16177. Swiftwick's HEALTH+ Medical Class II graduated compression socks, valued at $24.99, will also be sold in truck and travel centers nationwide beginning in September for an introductory price of $19.99.
"Marten is fully committed to exploring any new products or services that support our drivers on the road," said Tim Norlin, director of recruiting for Marten Transport. "Swiftwick's socks are a high quality tool to help our drivers feel better almost as soon as they put them on. We're excited to be part of introducing this sock to the trucking industry."
Professional truck drivers often face a higher risk of dehydration, obesity, diabetes, cardiovascular disease, depression, sleep disorders and Deep Vein Thrombosis (DVT) not only from sitting for extended periods of time, but also from the mechanical vibration and road feedback that drivers experience. Swiftwick's HEALTH+ Medical Class II graduated compression socks can help prevent DVT and manage swelling with accompanying ailments, such as aching of the feet and lower legs.
"Focusing on driver health and wellness is a priority for our company and we're especially glad to be able to give our drivers this tool," said Jessica Dmochowski with Universal Truckload. "Making lifestyle changes like losing weight or eating better are long-term undertakings that we encourage, but we enjoy knowing the Swiftwick HEALTH+ sock helps drivers feel better almost immediately."
The HEALTH+ Medical socks offer 132 needle-count graduated compression and all materials used to make them are sourced and made in the U.S.A.
"It was a natural progression to make the leap from serving athletes to serving truck drivers because our socks are meant to provide everyone with comfortable feet," said Cleveland. "Other medical socks on the market are expensive and uncomfortable or simply not conveniently available to professional drivers. We are proud to create a first of its kind medical class II graduated compression sock at the lower price point which will be conveniently available for drivers nationwide."
About Swiftwick
Founded in January 2008, Swiftwick is headquartered in Brentwood, Tenn. The company is a performance sock manufacturer that proudly employs an American workforce in high-quality textile manufacturing. Swiftwick is an innovator in designing and producing superior socks. The company has a culture focused on manufacturing through environmentally friendly means, social responsibility and leading customer service. Learn more at http://www.swiftwick.com.
Medical Class II Indications
For mild varicose veins, post-surgery, poor blood circulation, leg discomfort, mild to moderate swelling, tired and aching legs. Helps prevent Edema. Helps prevent Deep Vein Thrombosis for long distance travelers.