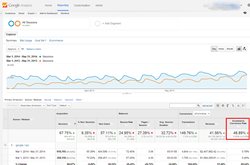 Bring your eCommerce PPC campaign to the next level with the ROI Challenge offered by No Risk SEO Inc.
Coral Springs, FL (PRWEB) August 19, 2014
Tired of not seeing the ROI from a PPC campaign increase month after month?
Take the ROI Challenge!
The team at No Risk SEO Inc. comprised of Google certified paid search experts have hit home runs on every paid search campaign with a budget in excess of $40k+ per month. The staff at No Risk SEO Inc. have successfully managed campaigns with budgets well over millions in click spend that maintain 370% ROI. They have taken dozens of campaigns with plateauing ROI and successfully increased the ROI by 200% on many occasions.
Any business that spends over 40k+ each month on PPC, is invited to take the ROI challenge. Why? All large accounts that are managed by the team at No Risk SEO Inc. are the most successful case studies to date. The team is so confident they can help that they are putting their money where their mouth is.
Give the experts at No Risk SEO Inc. 3 months to manage the PPC campaign, if they cannot increase the ROI after 3 months, receive a check for $2,000.00.
If the team at No Risk SEO Inc. increases the ROI by the pre-determined amount that is agreed upon, they are hoping to gain a life-long client who appreciates experts that accomplish predetermined goals.
Jason Hawkins, President & Co-Founder of No Risk SEO Inc. explains: "This is a fantastic opportunity for business owners who have been seeing poor to mediocre results, yet have a large data sample and spending a decent amount of money on Adwords. Our recent case studies have been featured on industry leading websites because the results are some of the best in the industry. Offering the ROI Challenge is our way of saying, we know we can improve your campaign and willing to put our money where our mouth is. I am unaware of any companies with a similar offering."
Visit their accomplishments page & results page to see what distinguishes this team from the competition, in addition to the ROI challenge.
Limit: The ROI challenge is limited to only 5 businesses. The business with the highest ROI will be given additional exposure from the ROI challenge via a press release and featured on NoRiskSEO.com.