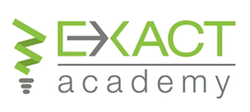 With 80 million millennials and counting, young people have begun to enter the workplace in full force, many being promoted to middle management out of necessity and before they're ready.
Atlanta, GA (PRWEB) August 19, 2014
ExactSource, a national leader in the delivery of talent management solutions and software to architectural, engineering, and construction firms, is hosting the next webinar in their ExactAcademy series on Thursday, August 21, 2014 at 2pm eastern time. The free webinar, "Developing Young Leaders," will feature Jim Krug as the guest speaker.
The webinar will focus on the necessity of developing the next generation of young leaders. In the highly interactive 45-minute webinar, viewers will learn why an A/E/C firm should invest in young leader development, how a firm should approach this development, and steps to take in order to avoid future skills gaps.
"With 80 million millennials and counting, young people have begun to enter the workplace in full force, many being promoted to middle management out of necessity and before they're ready," says Sarah Walpert, Director of Marketing and Communications at ExactSource, "It is important for A/E/C firms to invest in these employees' training and development to avoid skills and leadership gaps as the Baby Boomers retire in the next decade."
The webinar is available at no charge to professionals in the A/E/C industry, and is especially relevant for human resources professionals, middle to upper management, and decision makers in A/E/C firms. Not only will there be a discussion on the next generation of leaders, but participants will be guided through steps to begin the leadership development process. This webinar will be conversational in format and questions, and comments from the audience are highly encouraged throughout the presentation.
To register for the webinar, go here: http://go.exactsource.com/developingyoungleaders.
ExactAcademy is a unique online educational initiative targeting A/E/C professionals. The online resource brings relevant content to both candidates seeking jobs and companies involved in hiring engineers through live webinars with industry experts and a digital library of archived content.
ExactAcademy is just the latest resource offered by ExactSource, a company that is bringing state-of-the-art solutions to support talent sourcing needs at every level in the A/E/C industry. In addition to leadership and technical recruiting, ExactSource offers proprietary software solutions, market research, and consulting services.
About ExactSource:
ExactSource is the leading recruiting, organizational consulting, market research, and software solutions company providing services to firms in the Architectural and Engineering sector.
ExactSource is best known in the A/E/C industry for their highly acclaimed ExactProfile technology, a system released in 2012 that assesses and catalogs more than 115 critical engineering skill sets and experience levels that aren't typically identified on a resume. Using this breakthrough screening software, HR managers are able to instantly identify the technical candidates that meet their exact requirements. This methodology provides a smarter way to hire, and it is the objective of ExactSource to have every A/E/C firm across the country using ExactProfiles as part of the hiring process.
ExactSource brings a combined 151 years of experience in technical and leadership recruitment, and has established a prominent presence in the Engineering community. The company successfully serves firms in 39 states across the nation, including over 20 firms on the Top 500 A/E list.
For more information about ExactSource and their consulting, research, and recruiting services, visit their website or contact David Schmidt at dschmidt(at)exactsource(dot)com.